Thank you for your purchase of an Apace Subsidy Plant Pack!
Each pack contains a lovely mix of carefully selected local native plants – mostly low growing; suitable for a small garden or verge, and, to keep it fair for all, we have included a couple larger shrubs and a small tree to please those with larger plant needs – If this does not suit you, they make great pot plants or even better as a gift!
Listed below are the species names and photos for the plants contained in each pack. More detailed descriptions can be found by searching our webpage, or through Google.
Thanks again for supporting your local non-profit, community run nursery during these trying times.
Happy planting =)
-Apace team
Melville and East Fremantle Packs
The City of Melville has made a pamphlet on this pack, including planting instructions, which is available for download here.
Guichenotia ledifolia x 1
Melaleuca systena dwarf x 1
Scaevola thesioides x 1
Melaleuca fulgens x 1
Enchylaena tomentosa x 1
Atriplex cinerea x 1
Anigozanthos manglesii x 2
Ptilotus polystachyus x 1
Trachymene coerulea x 1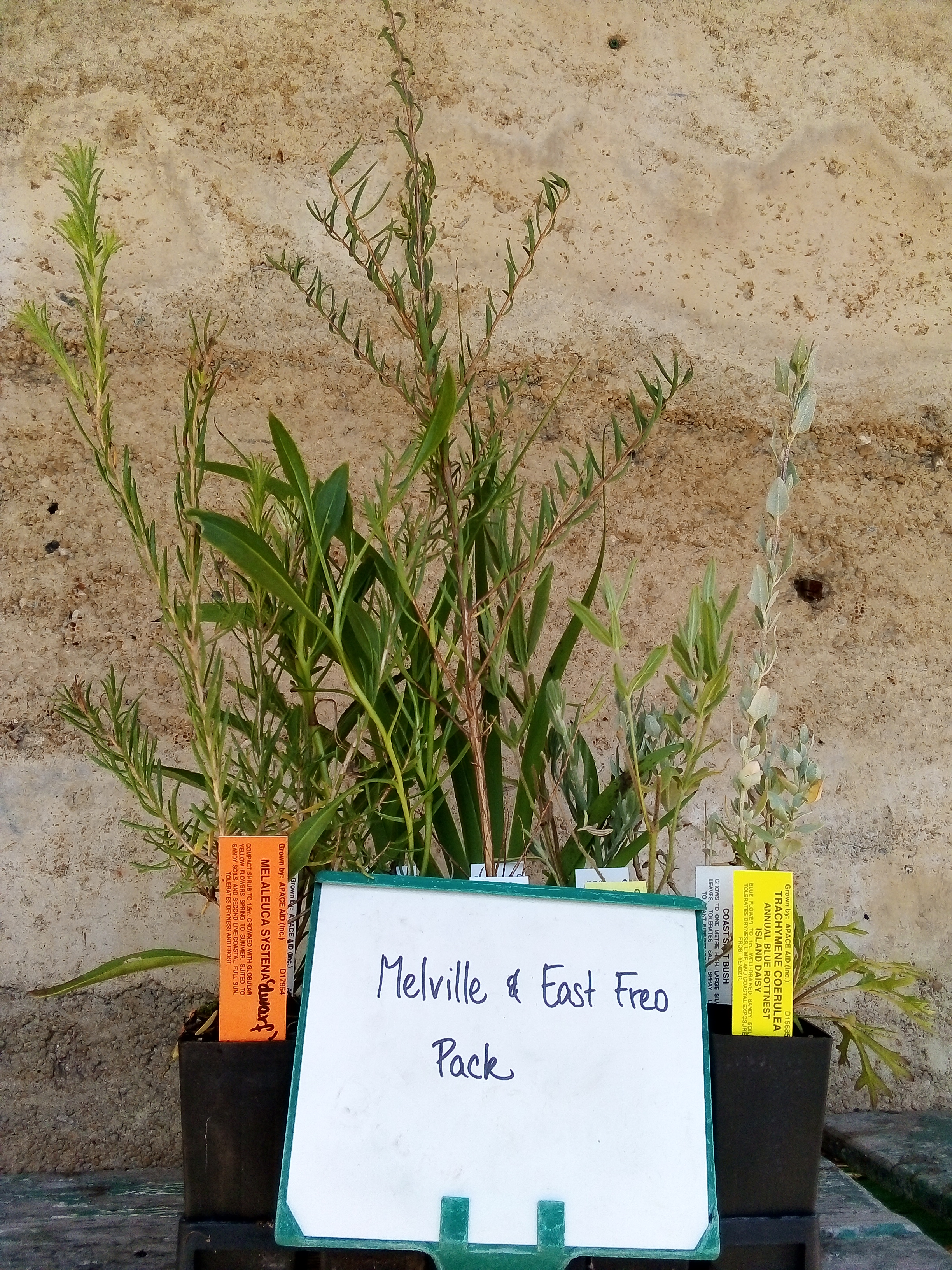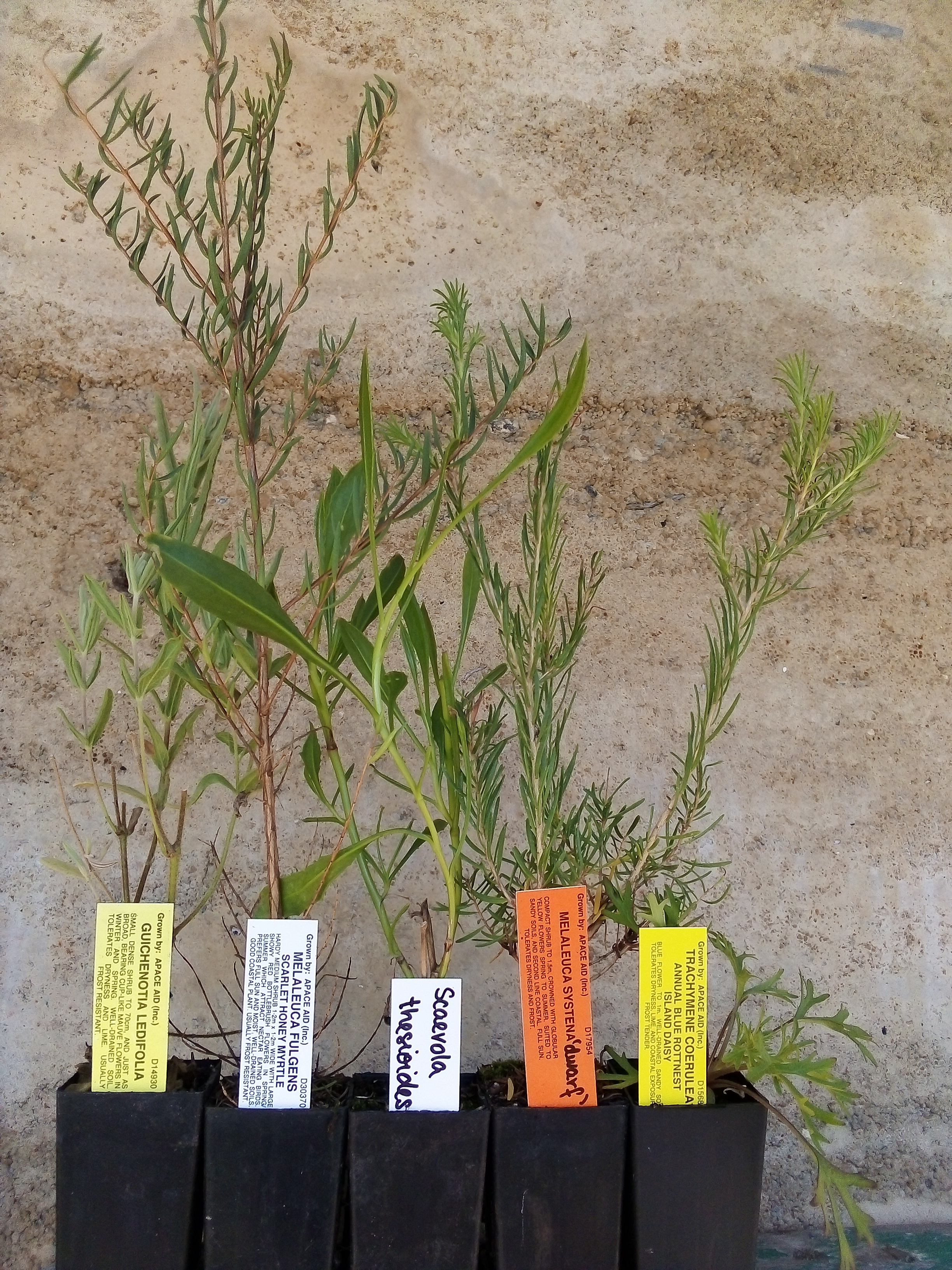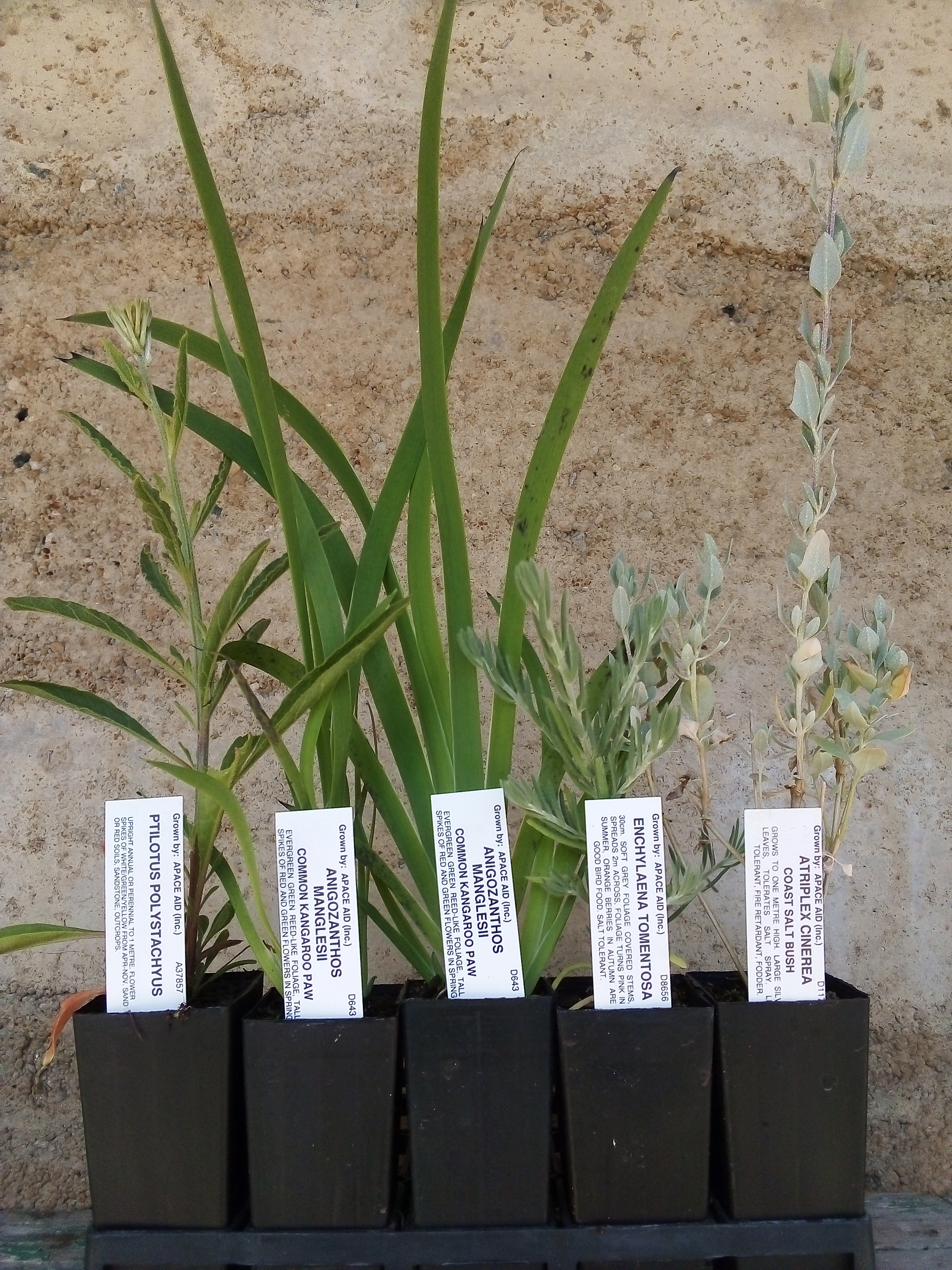 Pack I
Anigozanthos manglesii x 3
Beaufortia aestiva x 1
Brachyscome iberidifolia x 2
Calothamnus quadrifidus x 1
Clematis linearifolia x 1
Diplolaena angustifolia x 2
Eucalyptus foecunda x 1
Guichenotia ledifolia x 2
Poa poiformis x 2
Rhagodia baccata x 2
Scaevola crassifolia x 2
Templetonia retusa x 1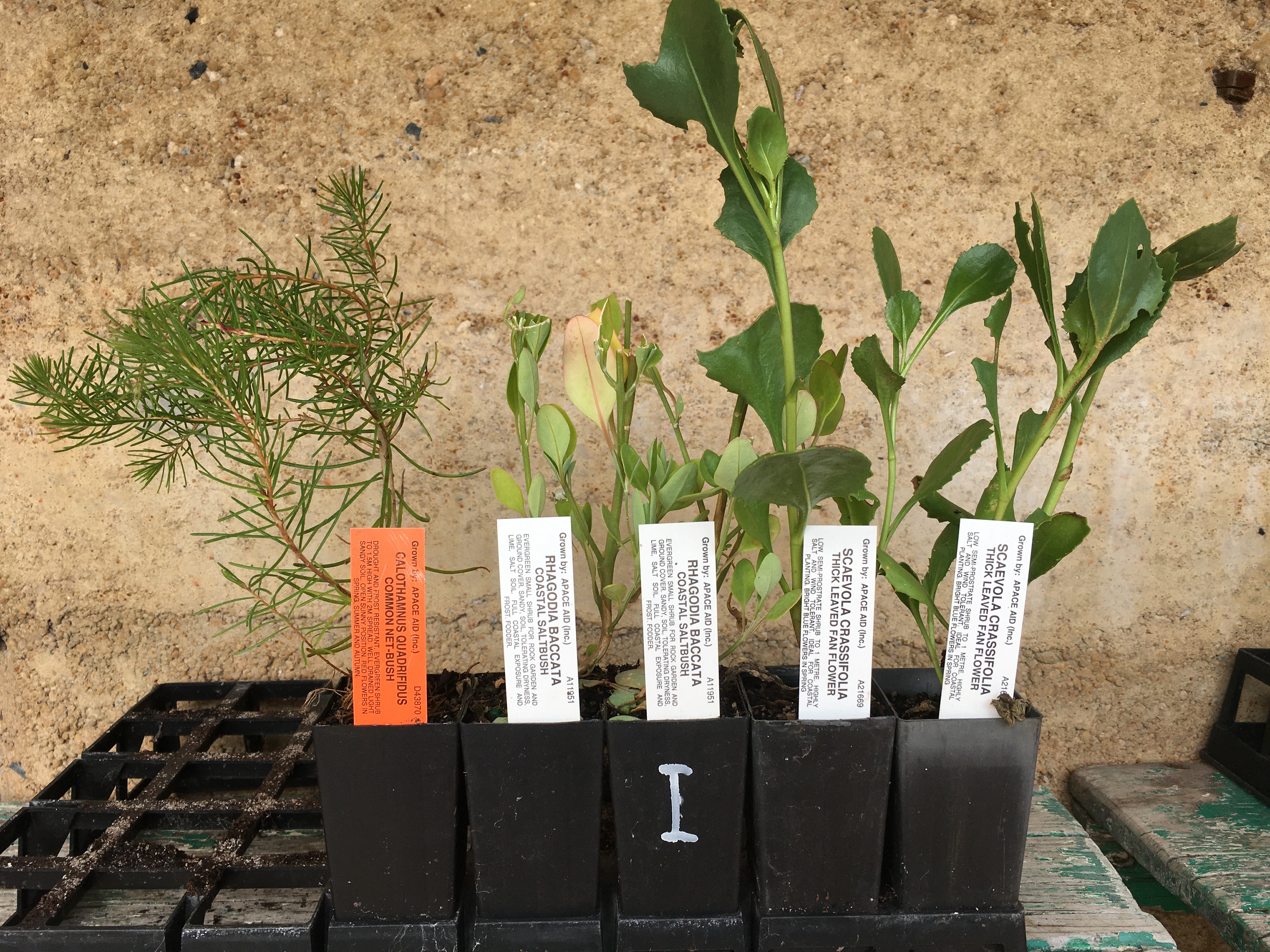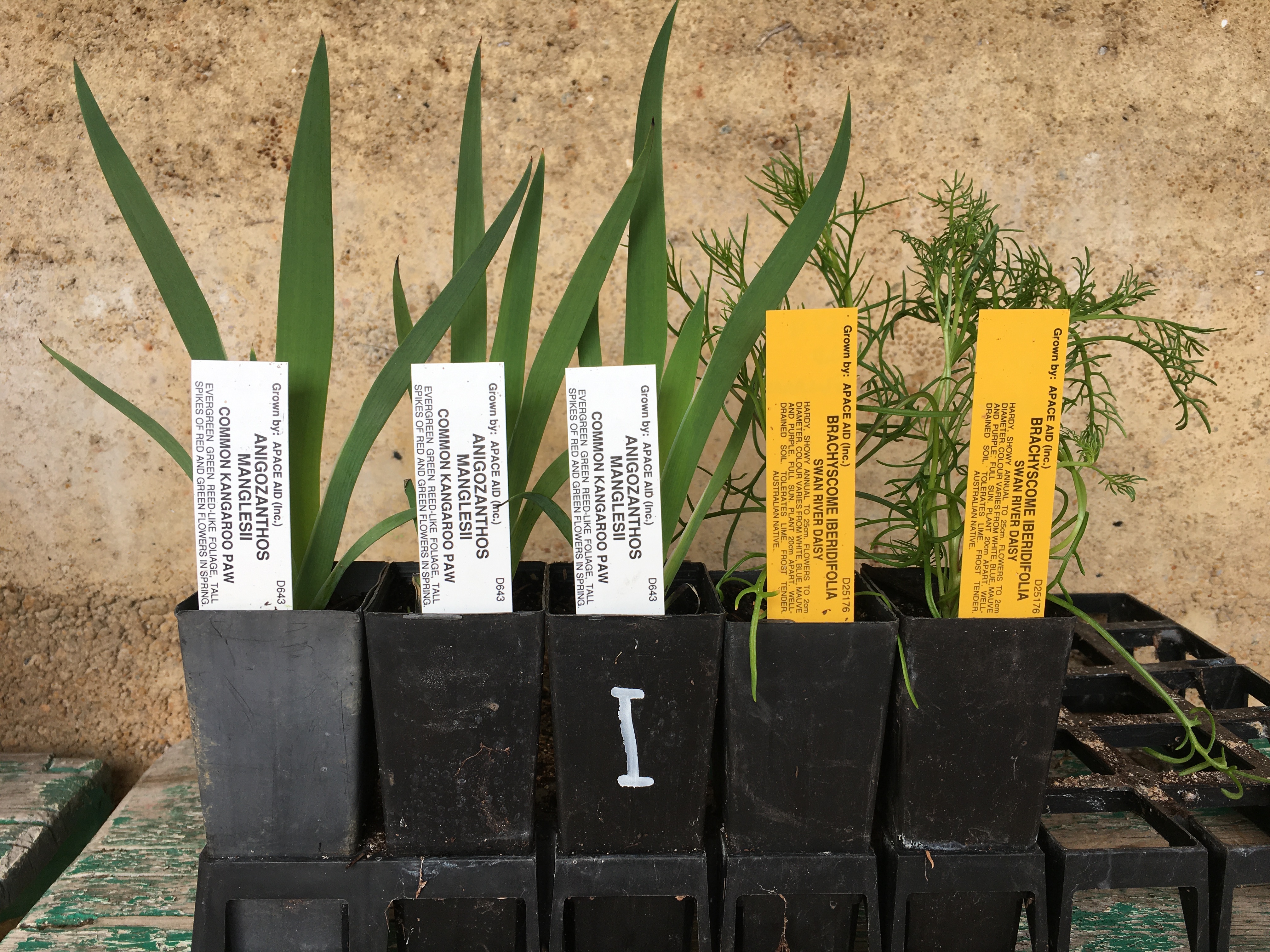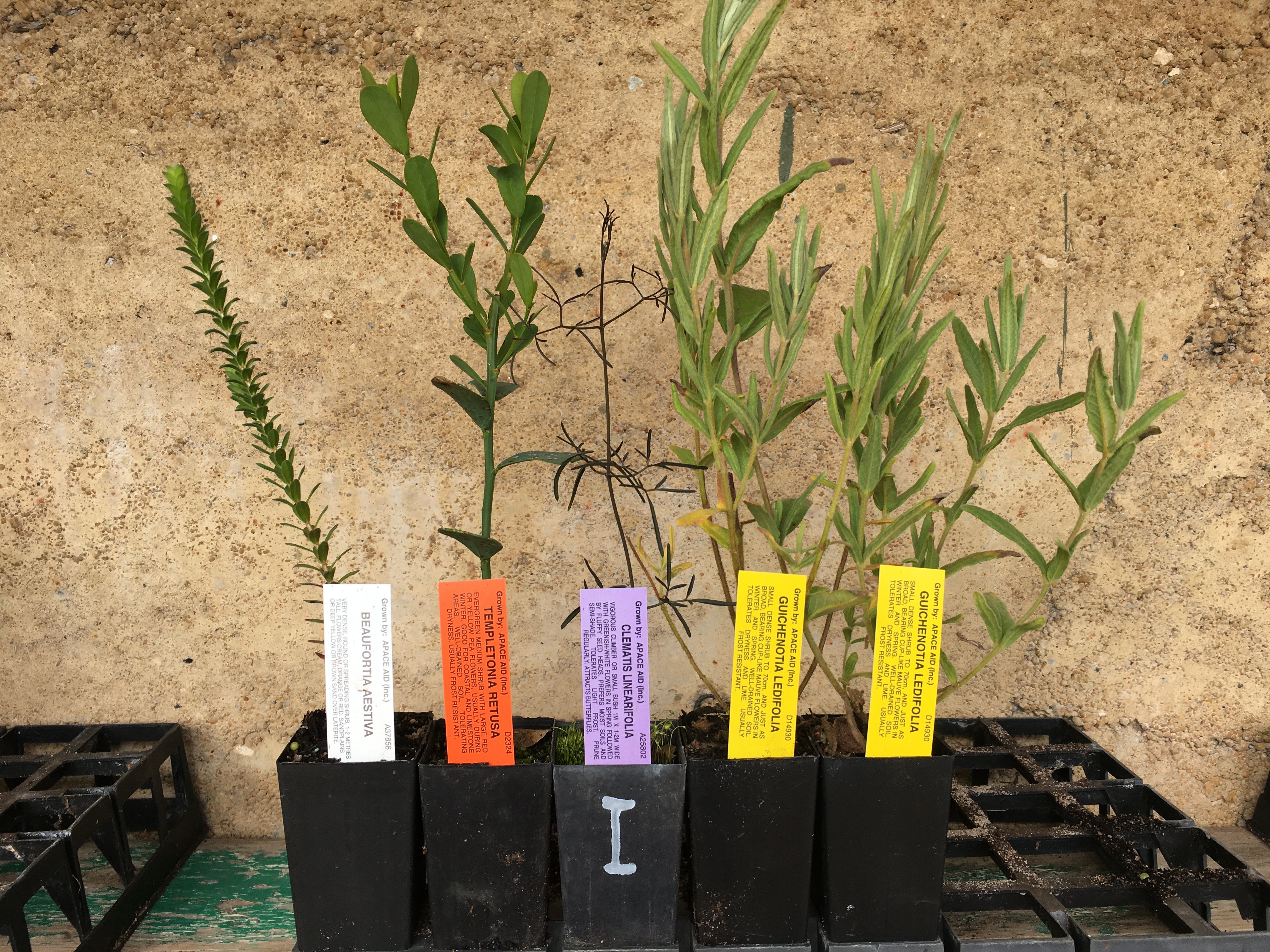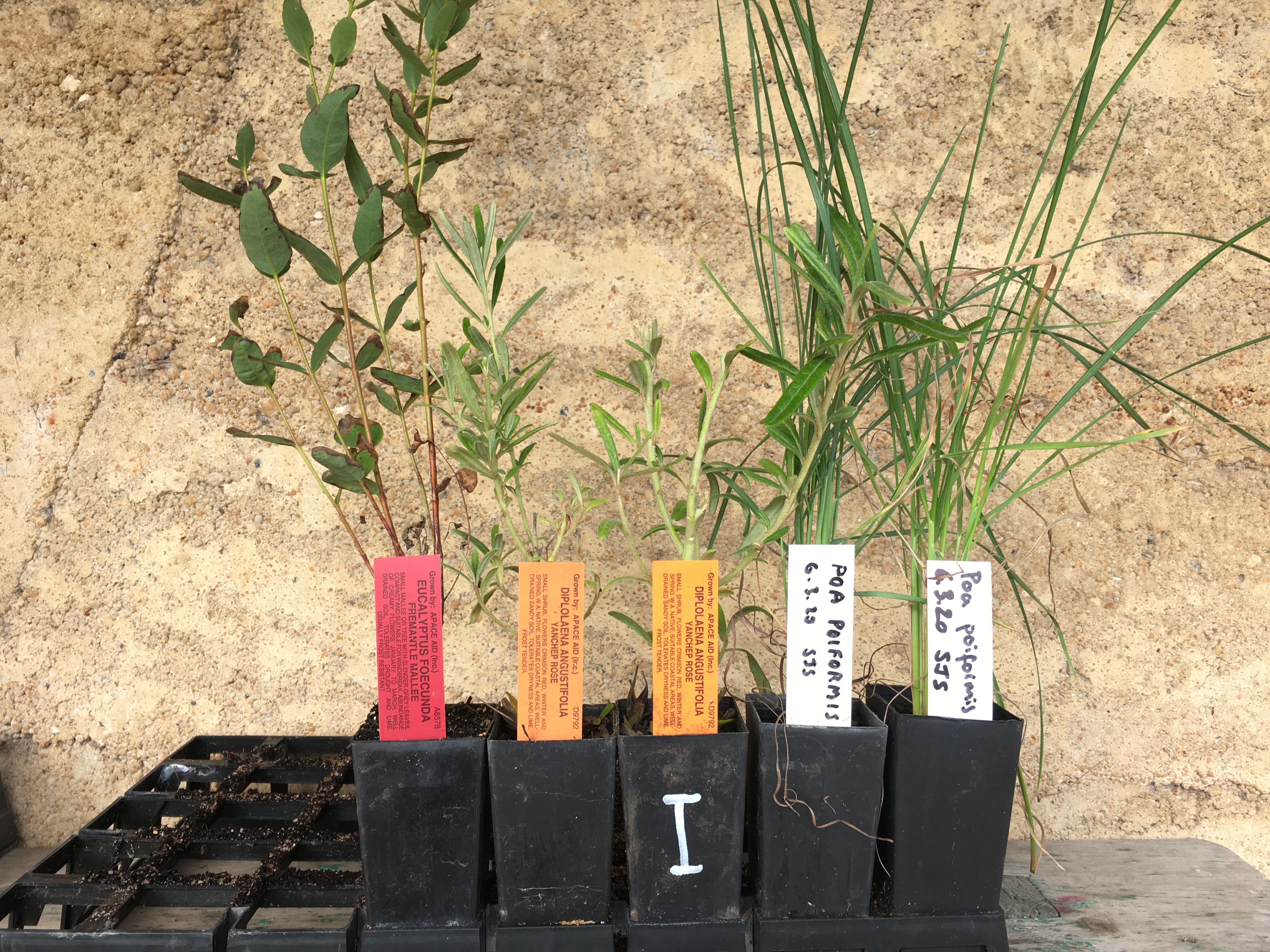 Pack H
Ficinia nodosa x 2
Anigozanthos manglesii x 2
Conostylus candicans x 2
Melaleuca conothamnoides x 1
Jacksonia calcicola x 1
Leucophyta brownii x 1
Diplolaena angustifolium x 2
Frankenia pauciflora x 2
Guichenotia ledifolia x 2
Scaevola nitida x 1
Melaleuca systena x 1
Acacia cyclops x 1
Agonis flexuosa x 1
Rhodanthe chlorocephala x 1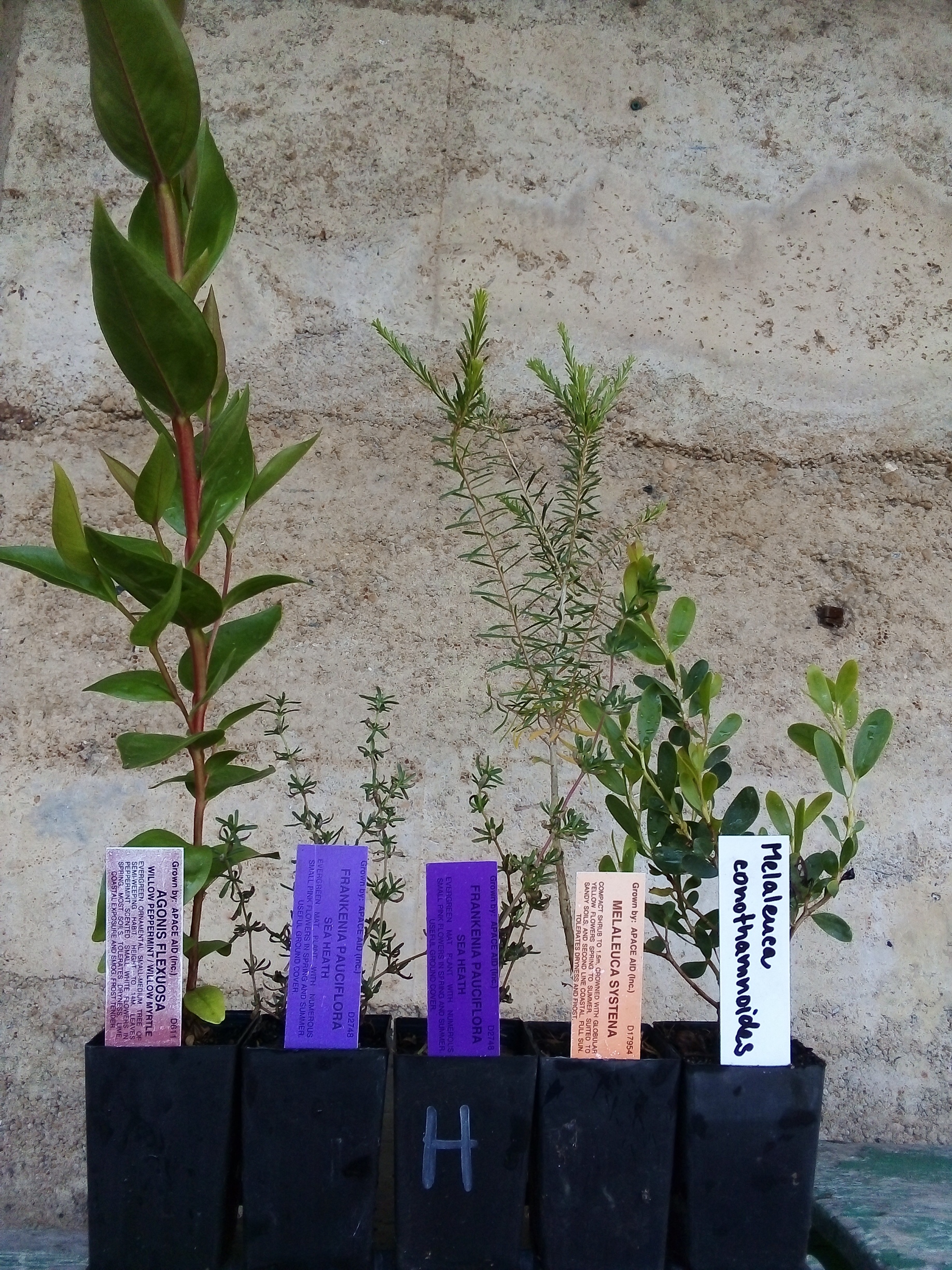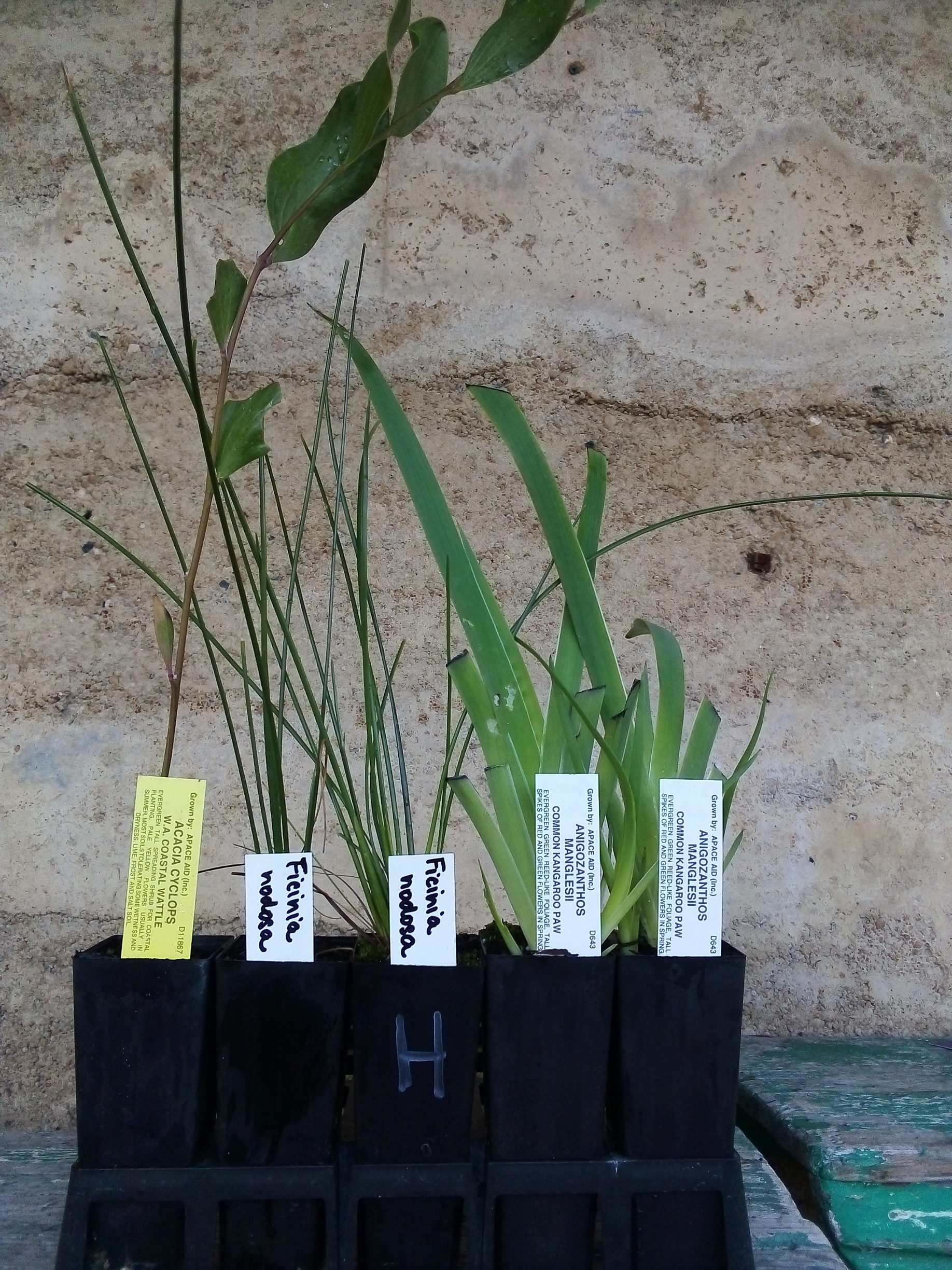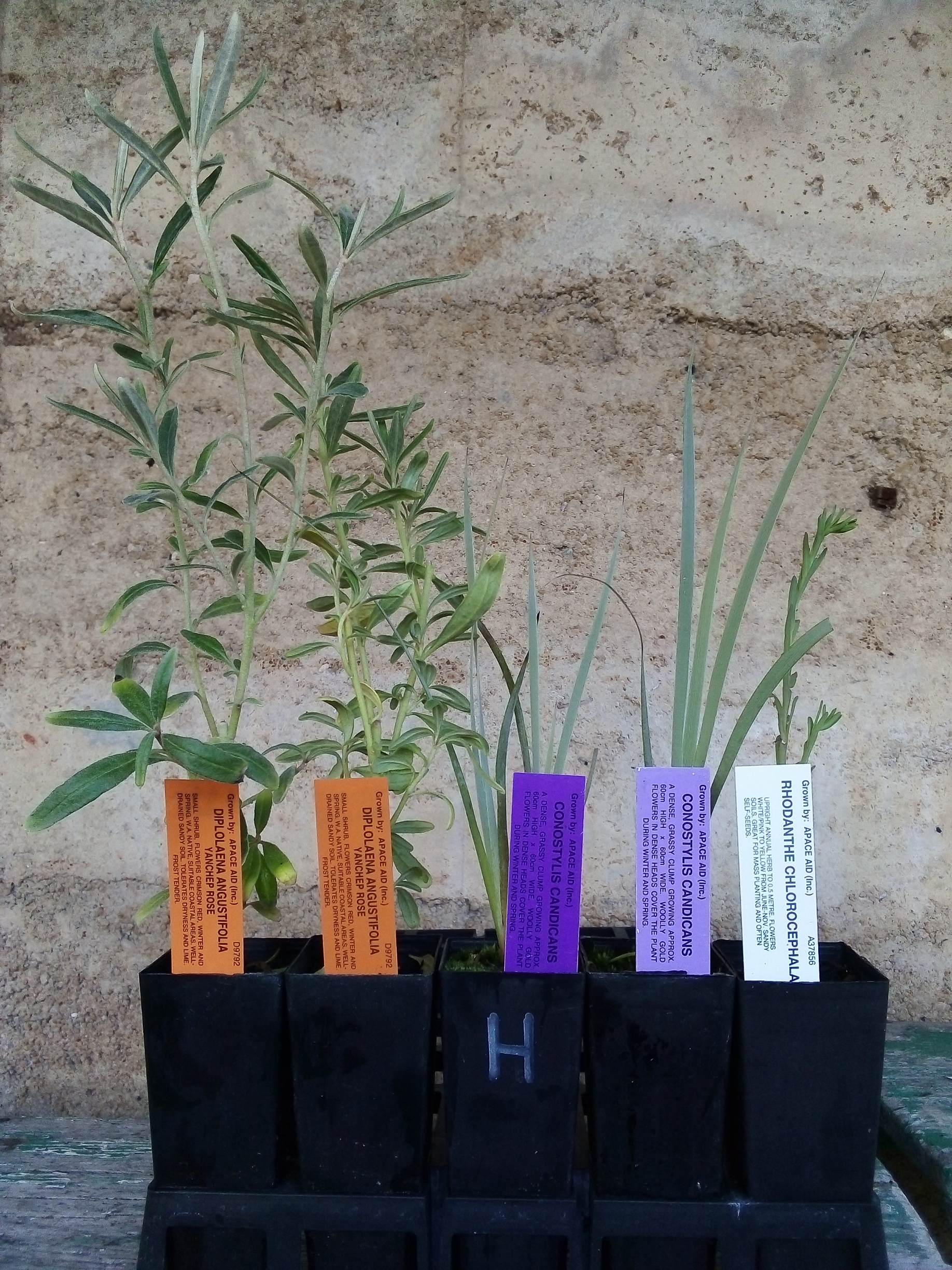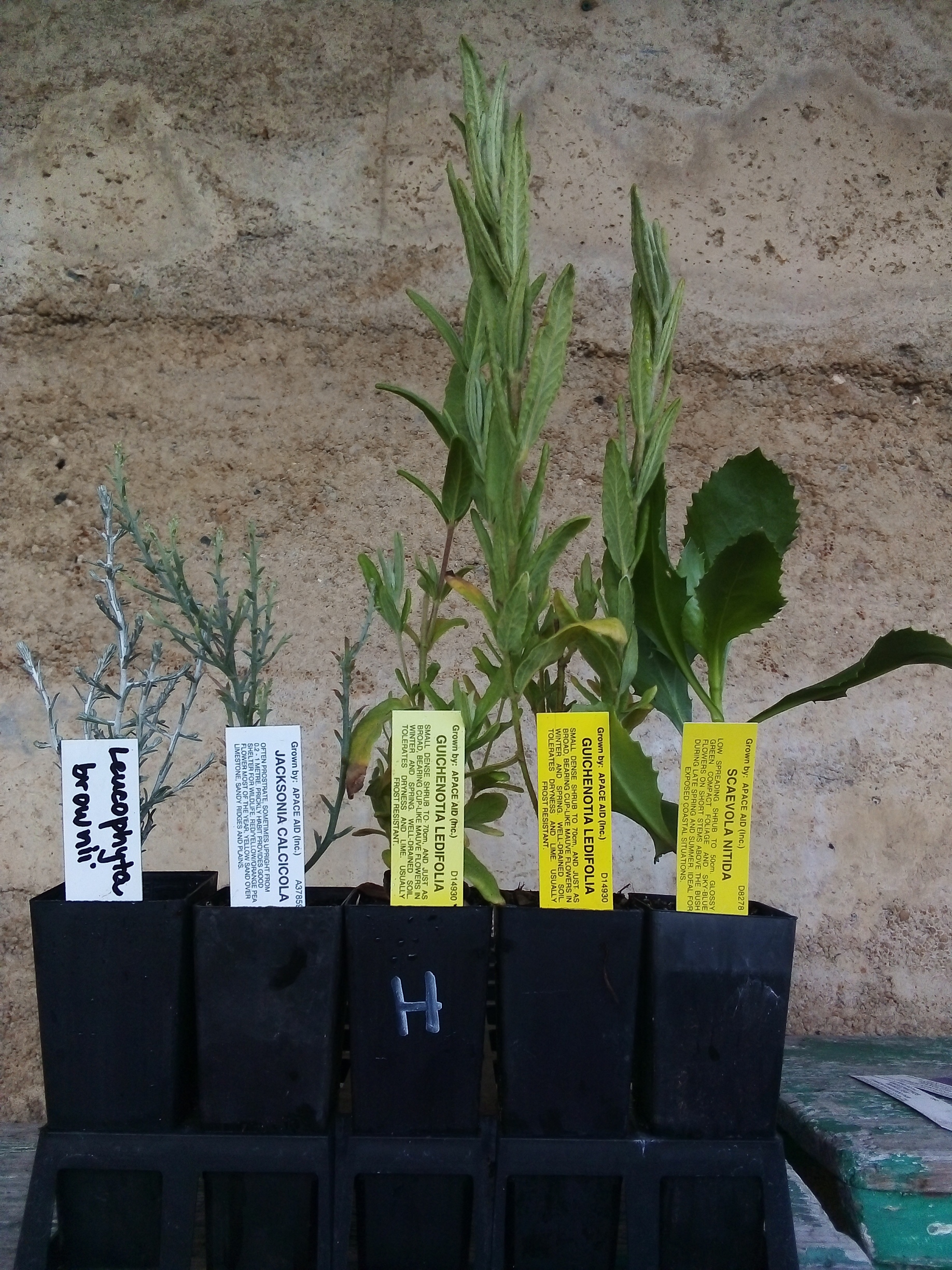 Pack G
Juncus subsecundus x 2
Pattersonia occidentalis x 2
Dianella revoluta mini x 2
Kennedia coccinia x 1
Brachyscome ibiridifolia x 1
Eremaea beaufortioides x 1
Calothamnus hirsutus x 2
Leucophyta brownii x 2
Gastrolobium nervosum x 2
Eremophila maculata x racemosa x 1
Acacia truncata x 1
Olearia axillaris x 1
Melaleuca cardiophylla x 1
Eucalyptus platypus x 1
Verticordia densiflora x 1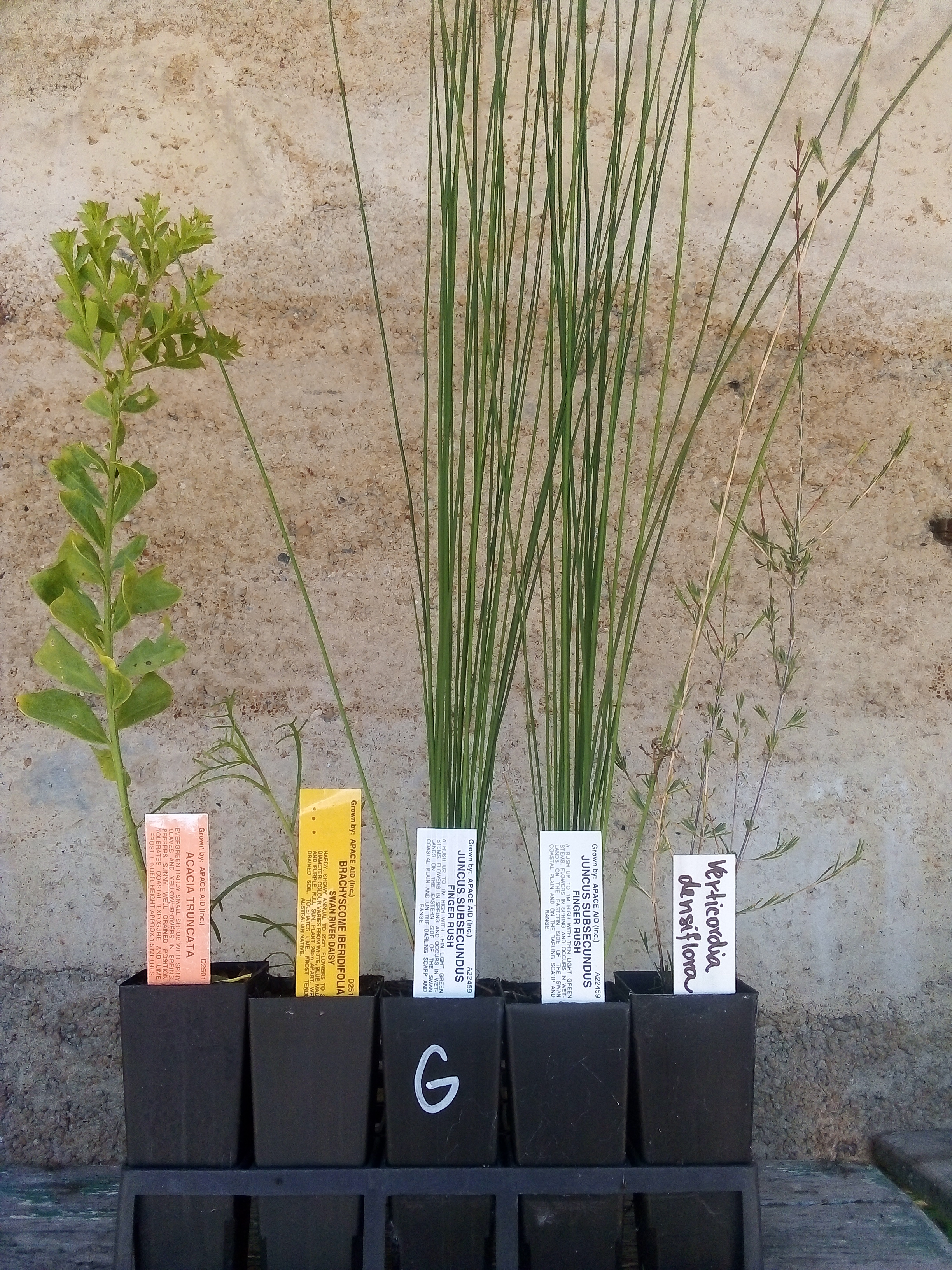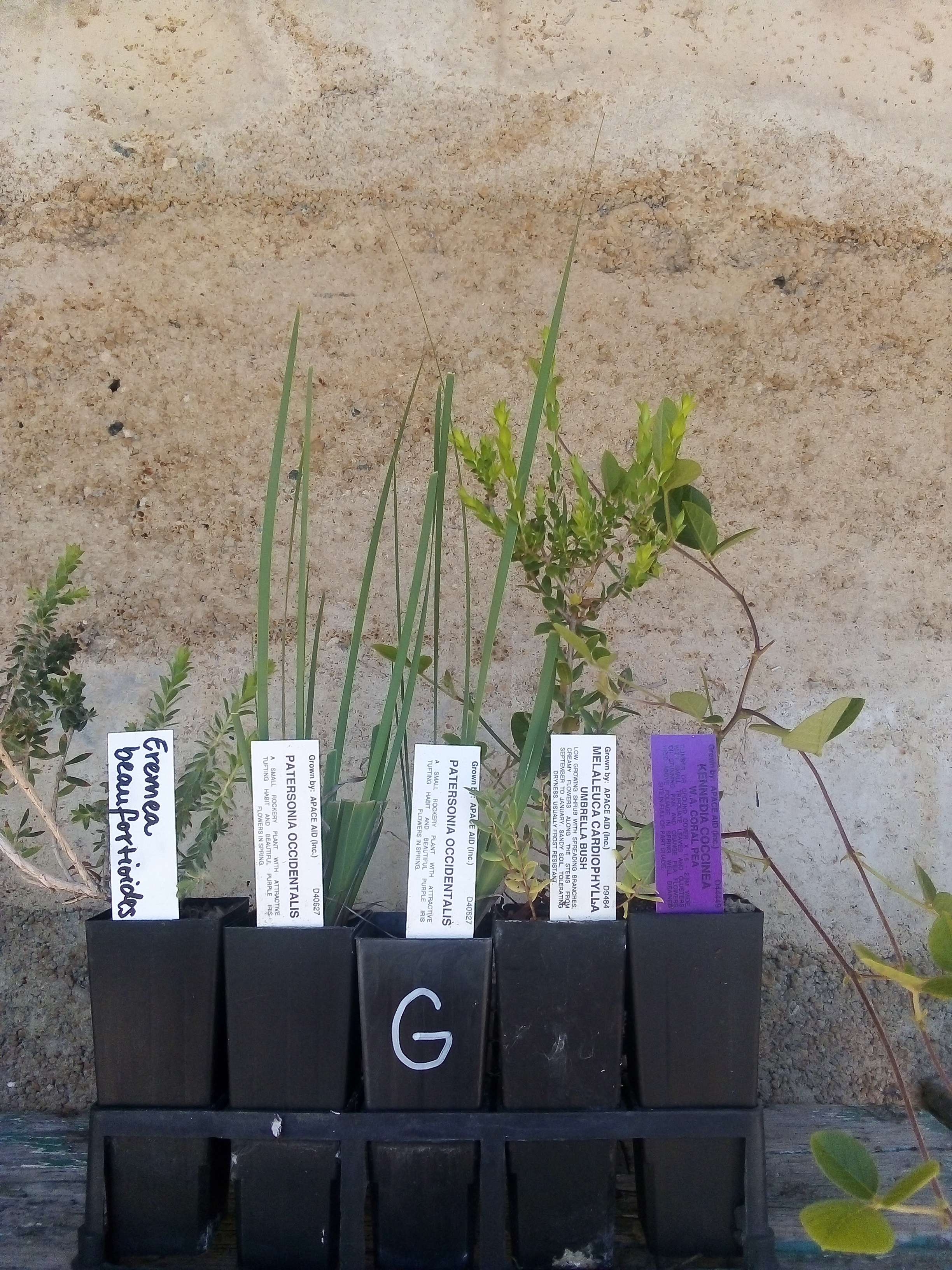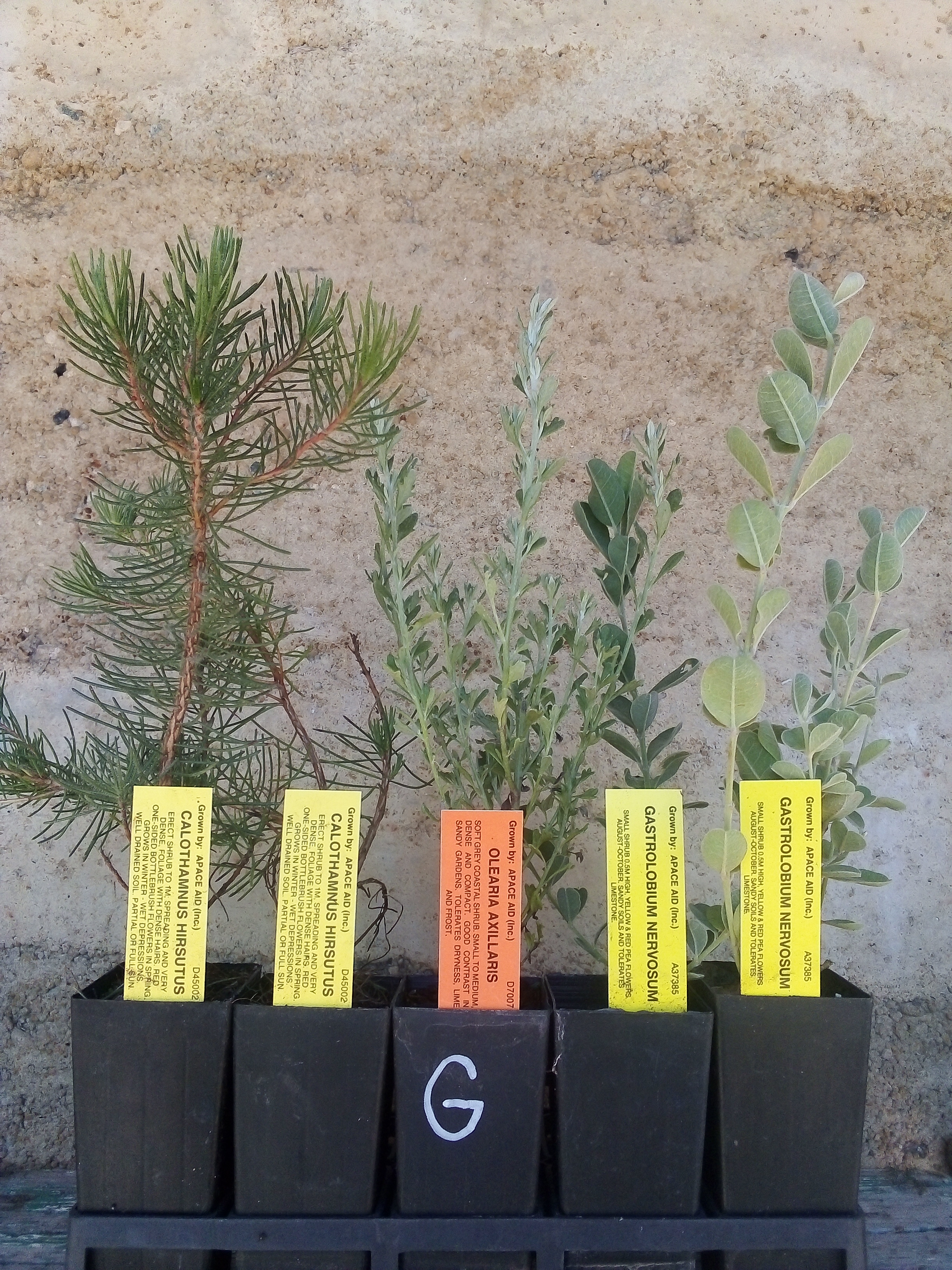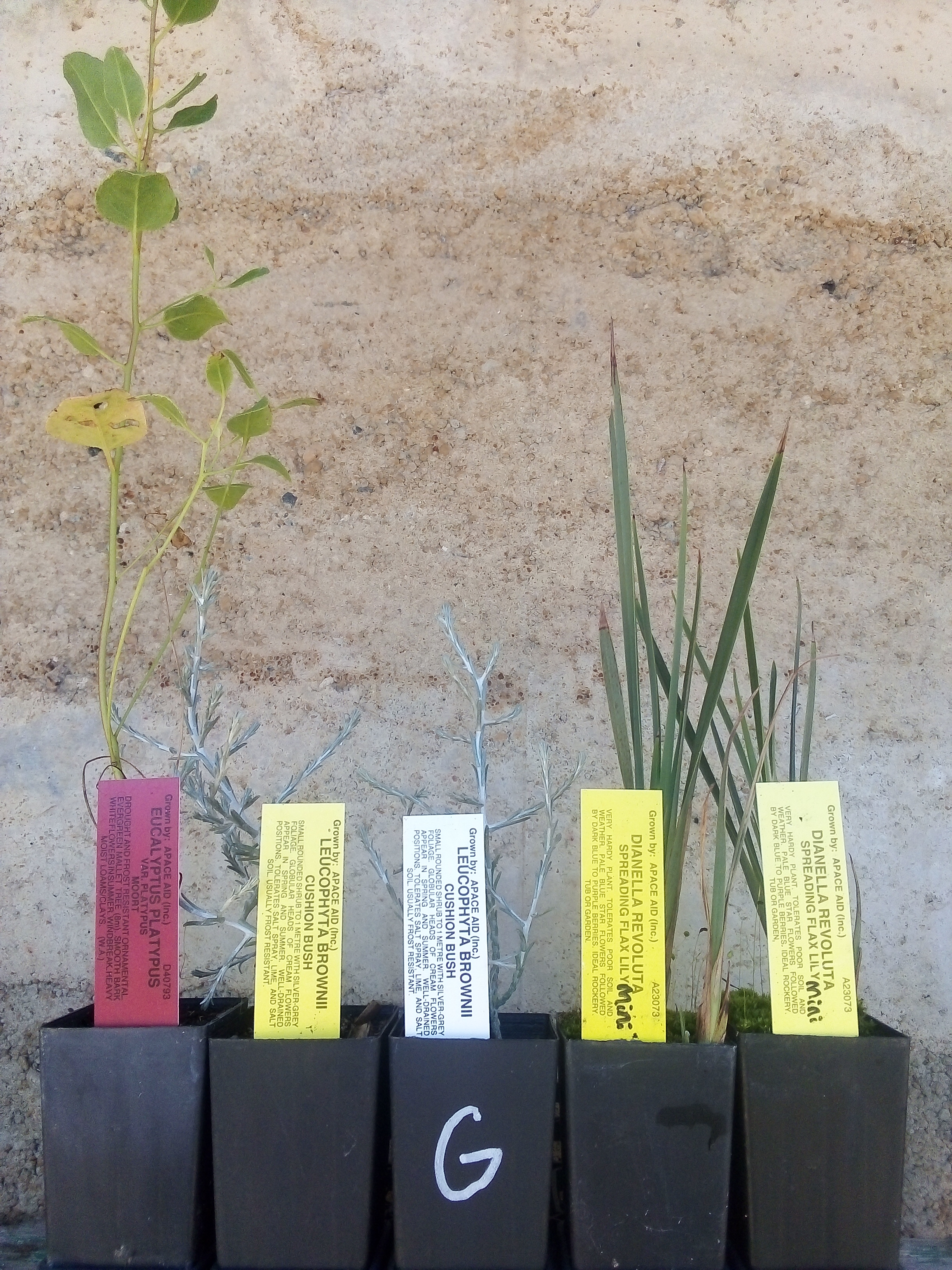 Pack F
Spinifex longifolius x 2
Conostylus candicans x 2
Pattersonia occidentalis x 2
Waitzia suavolens x 1
Kennedia nigricans x 1
Atriplex cinerea x 1
Chorizema illicifolium x 2
Gompholobium aristatum x 2
Scaevola thesioides x 2
Dodonea hackettiana x 1
Kunzea baxteri 'red' x 1
Melaleuca incana x 1
Eucalyptus foecunda x 1
Stylidium affine x 1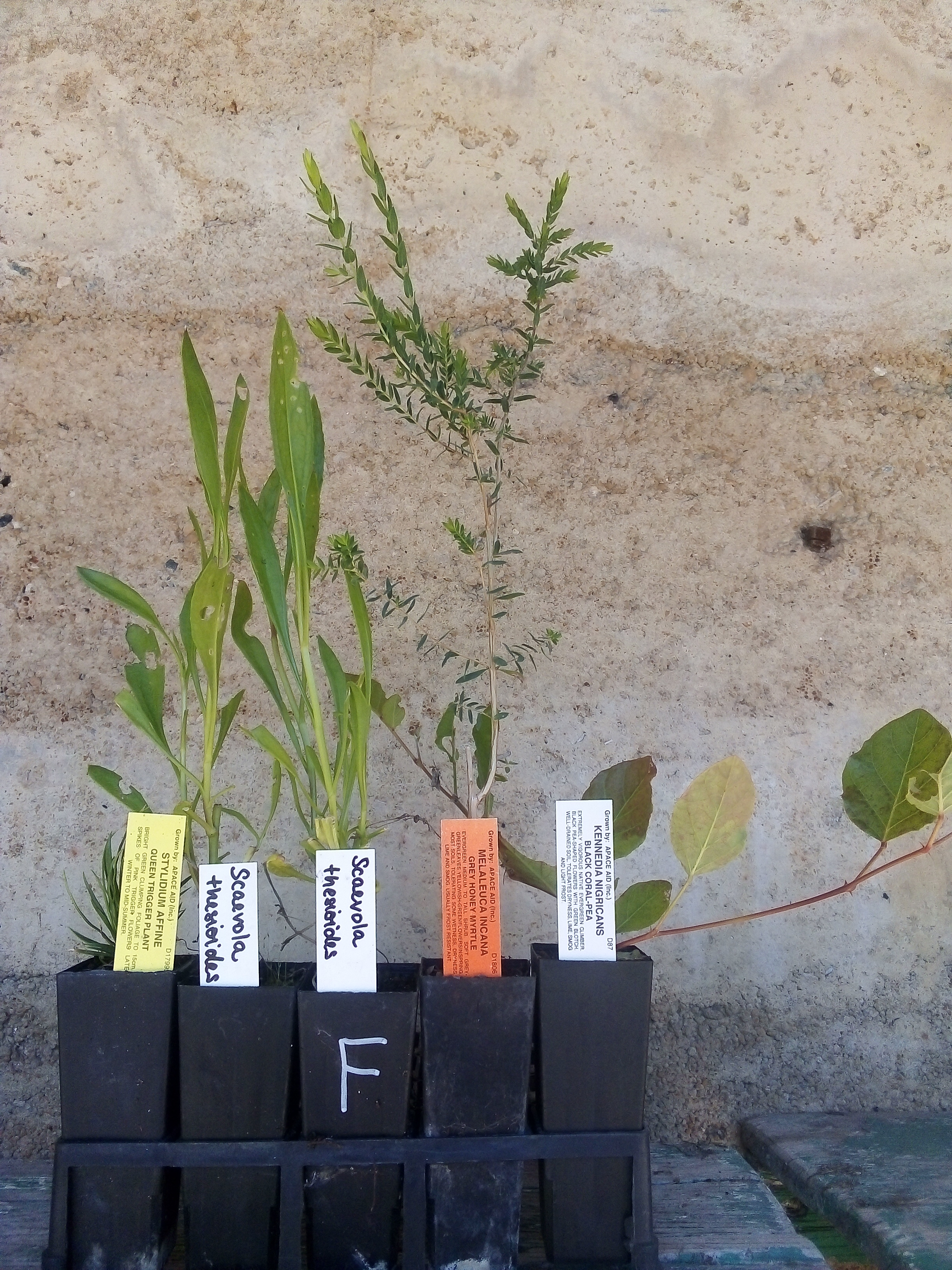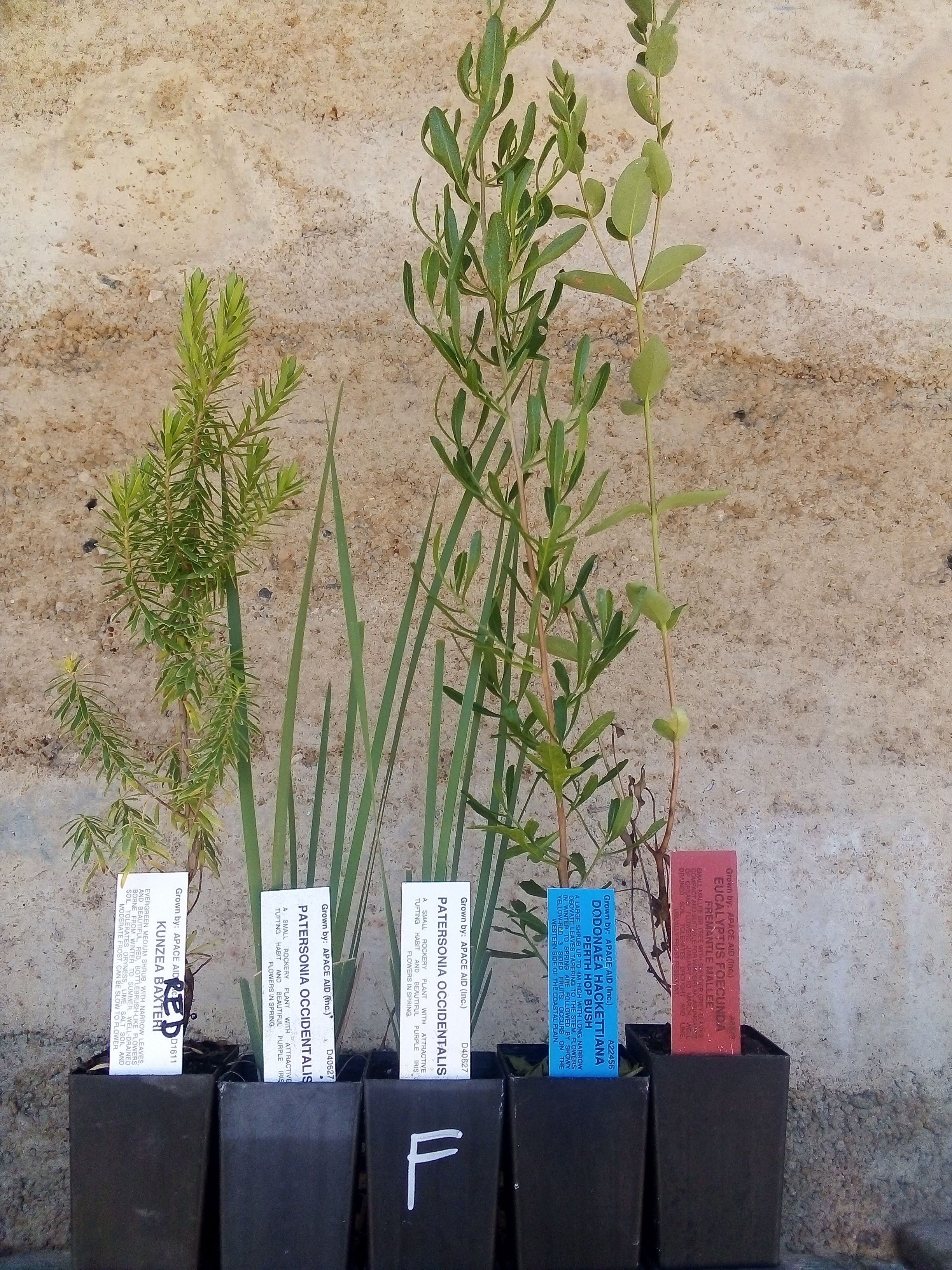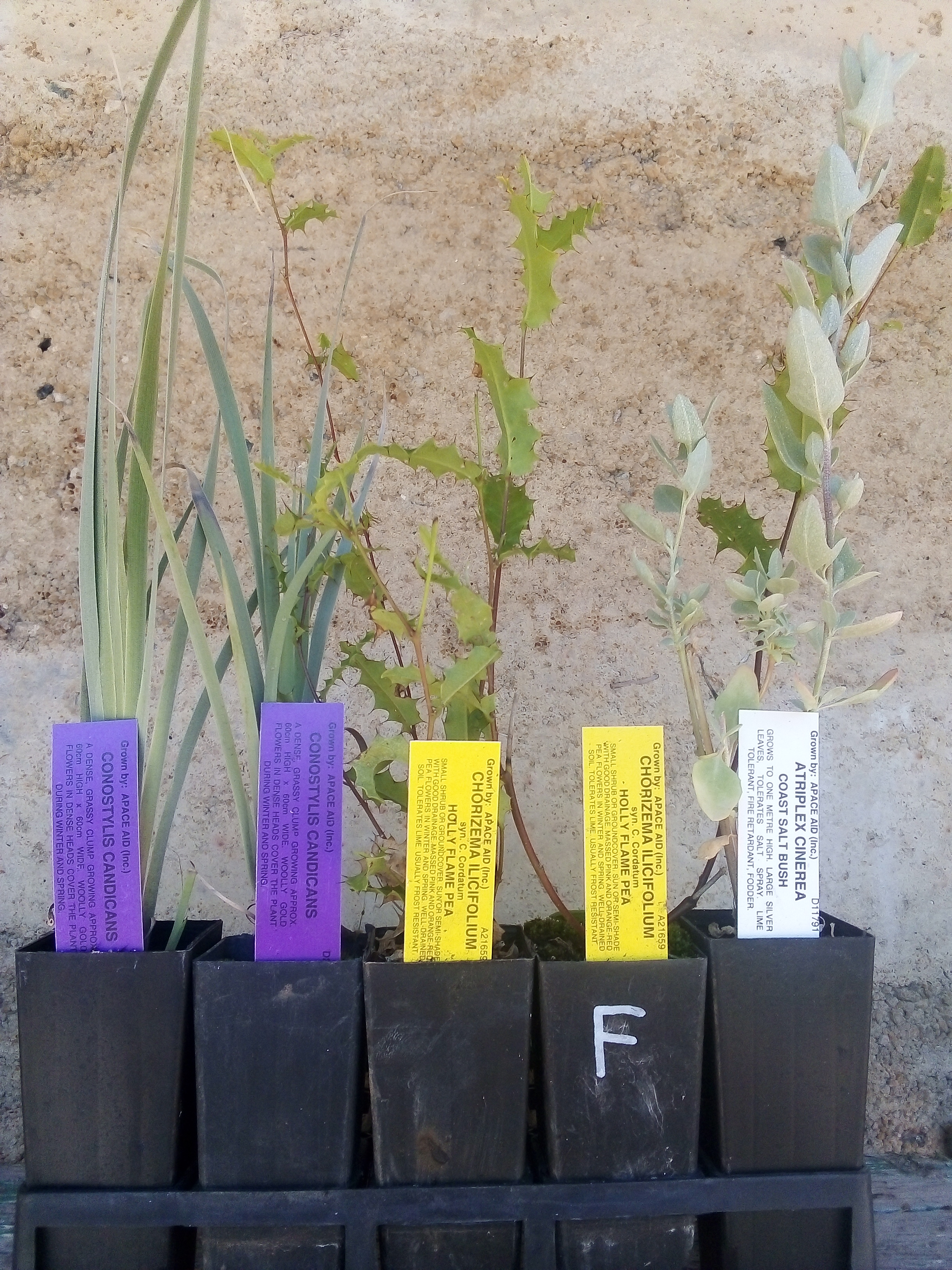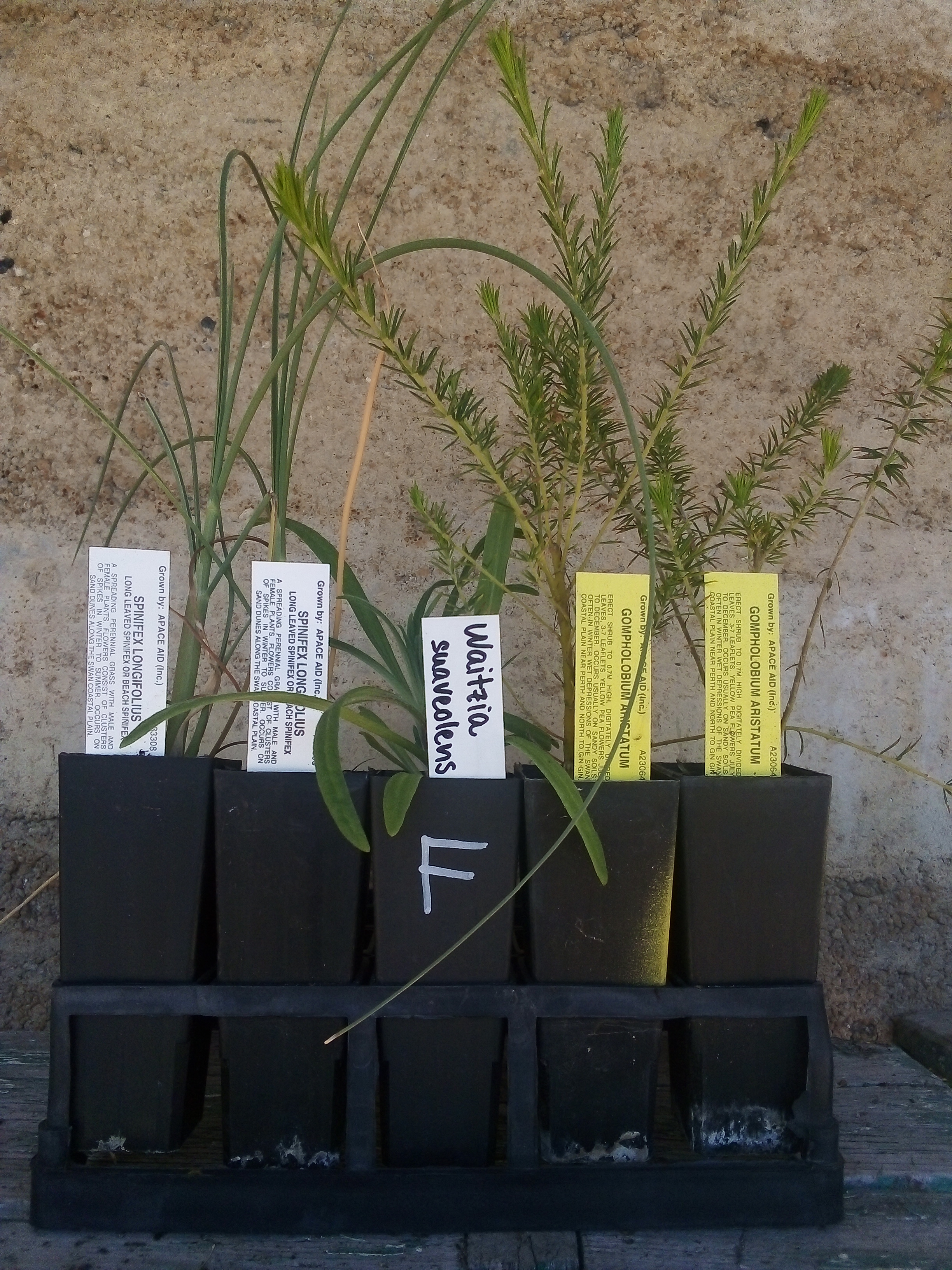 Pack E
Conostylus aculeata x 2
Conostylus candicans x 2
Ficinia nodosa x 2
Lawrencella davenportii x 1
Jacksonia calcicola x 1
Kennedia prostrata x 1
Lechenaultia floribunda x 1
Hypocallyma angustifolium x 1
Melaleuca scabra x 2
Chorizema varium x 1
Eremophila maculata x racemosa x 1
Callistemon phoeniceus x 1
Kunzea baxteri 'pink' x 1
Scaevola nitida x 1
Acacia splendens x 1
Hakea varia x 1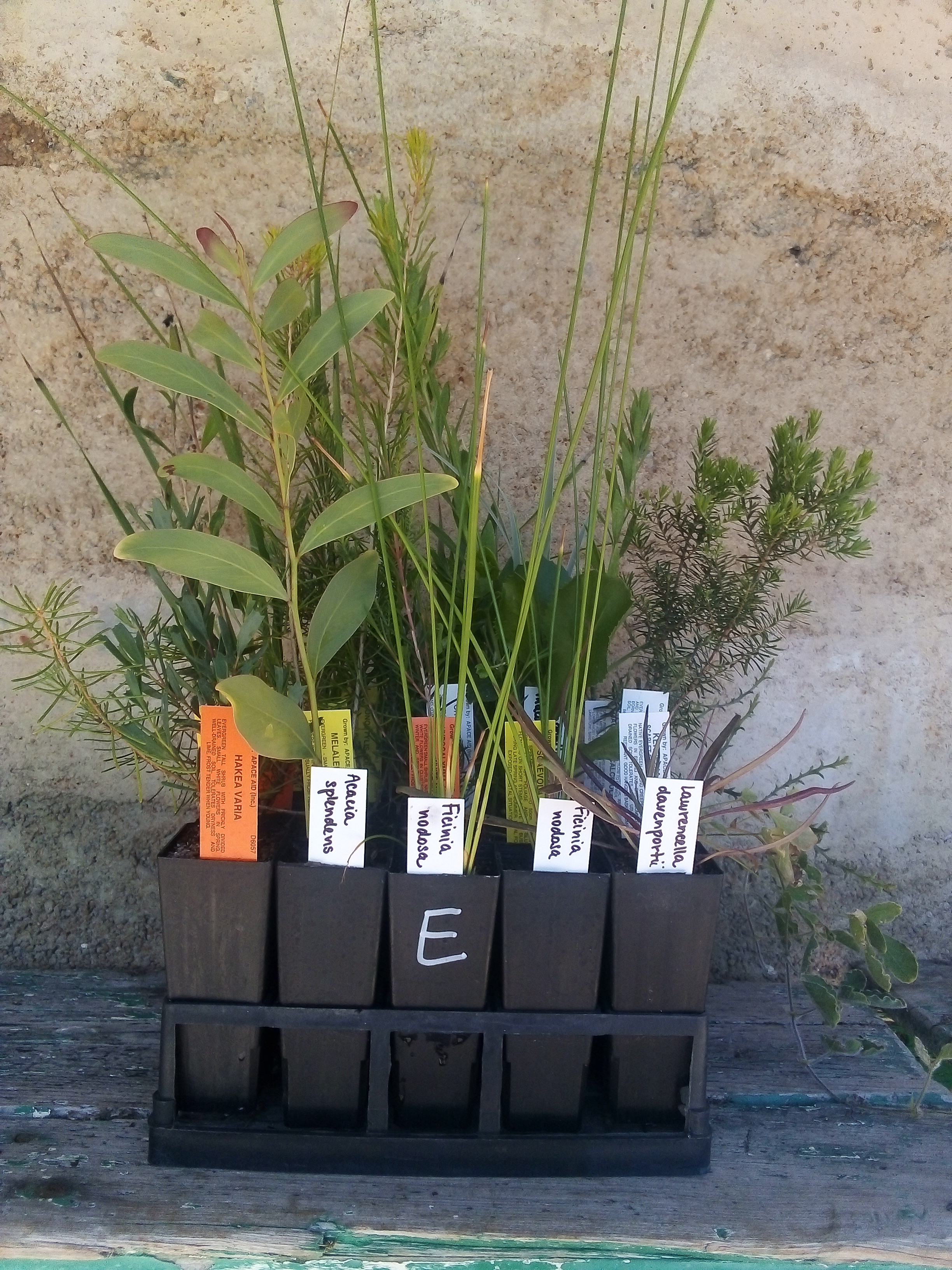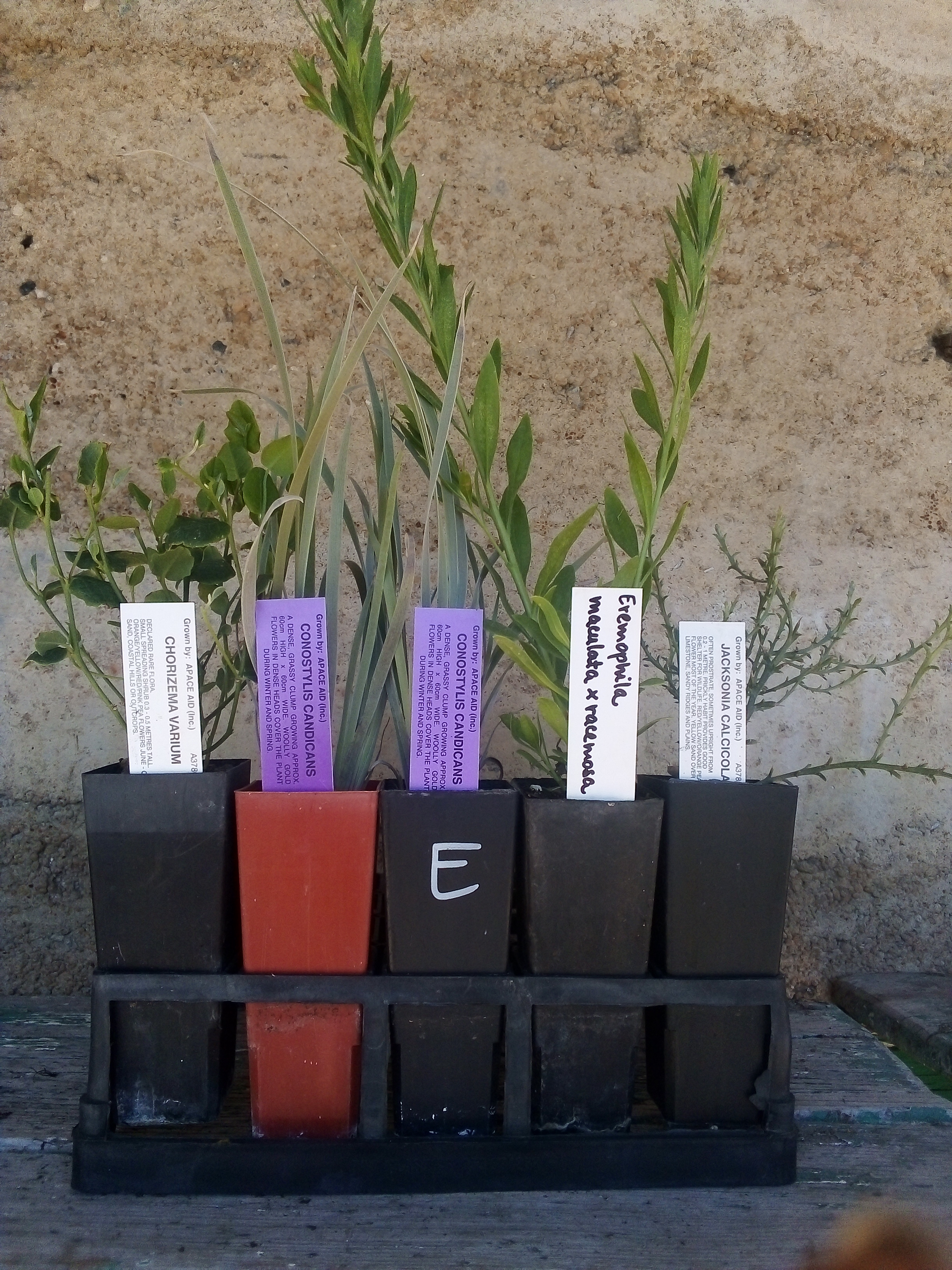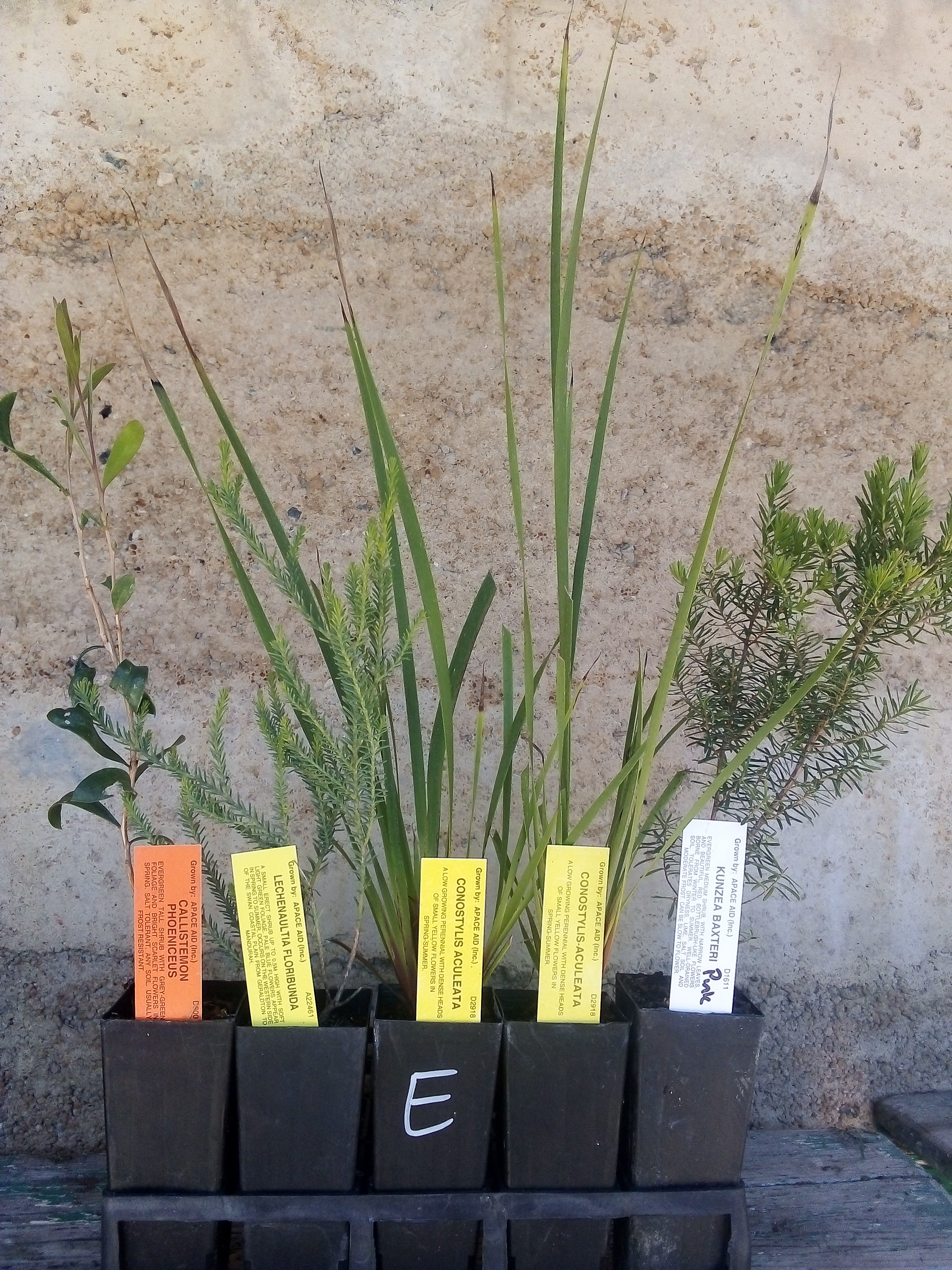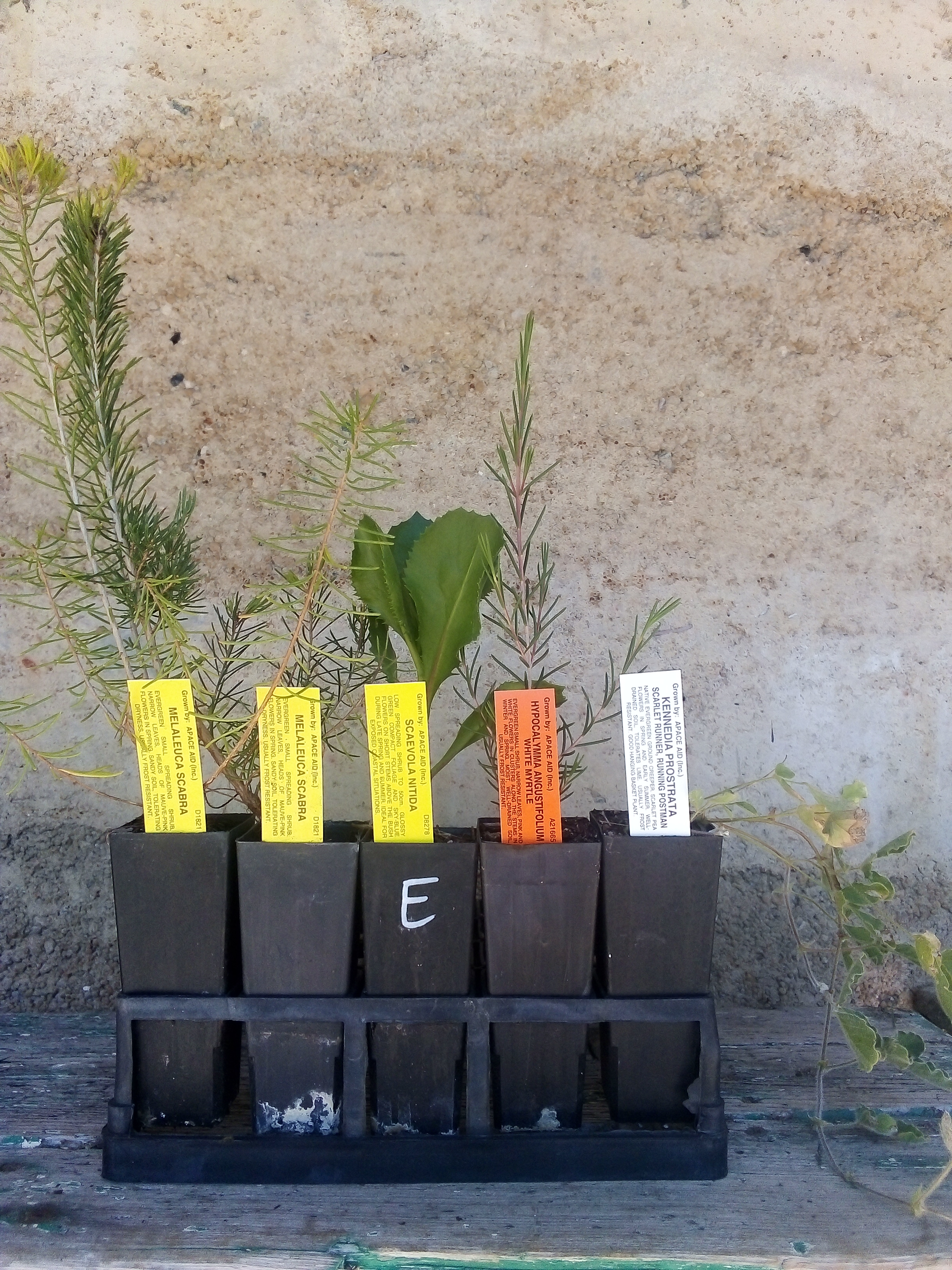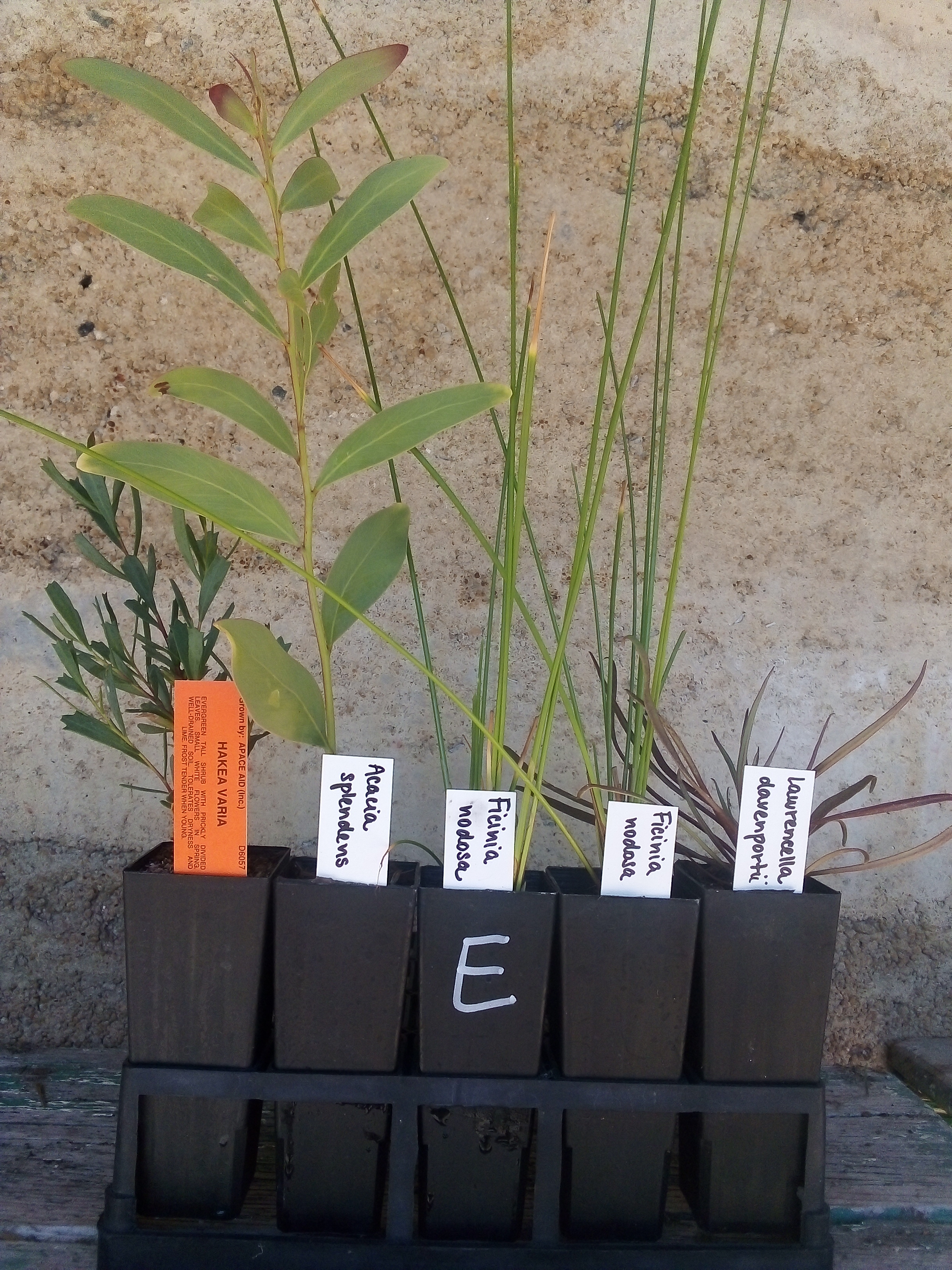 Pack D
Ficinia nodosa x 2
Anigozanthos viridis x 2
Orthrosanthus laxus x 2
Atriplex cinerea x 1
Kennedia prostrata x 2
Chorizema cordatum x 2
Gastrolobium nervosum x 2
Leucophyta brownii x 2
Hibbertia cuneiformis x 1
Hakea varia x 1
Melaleuca megacephala x 1
Eucalyptus caesia ssp magna x 1
Banksia ashbyi x 1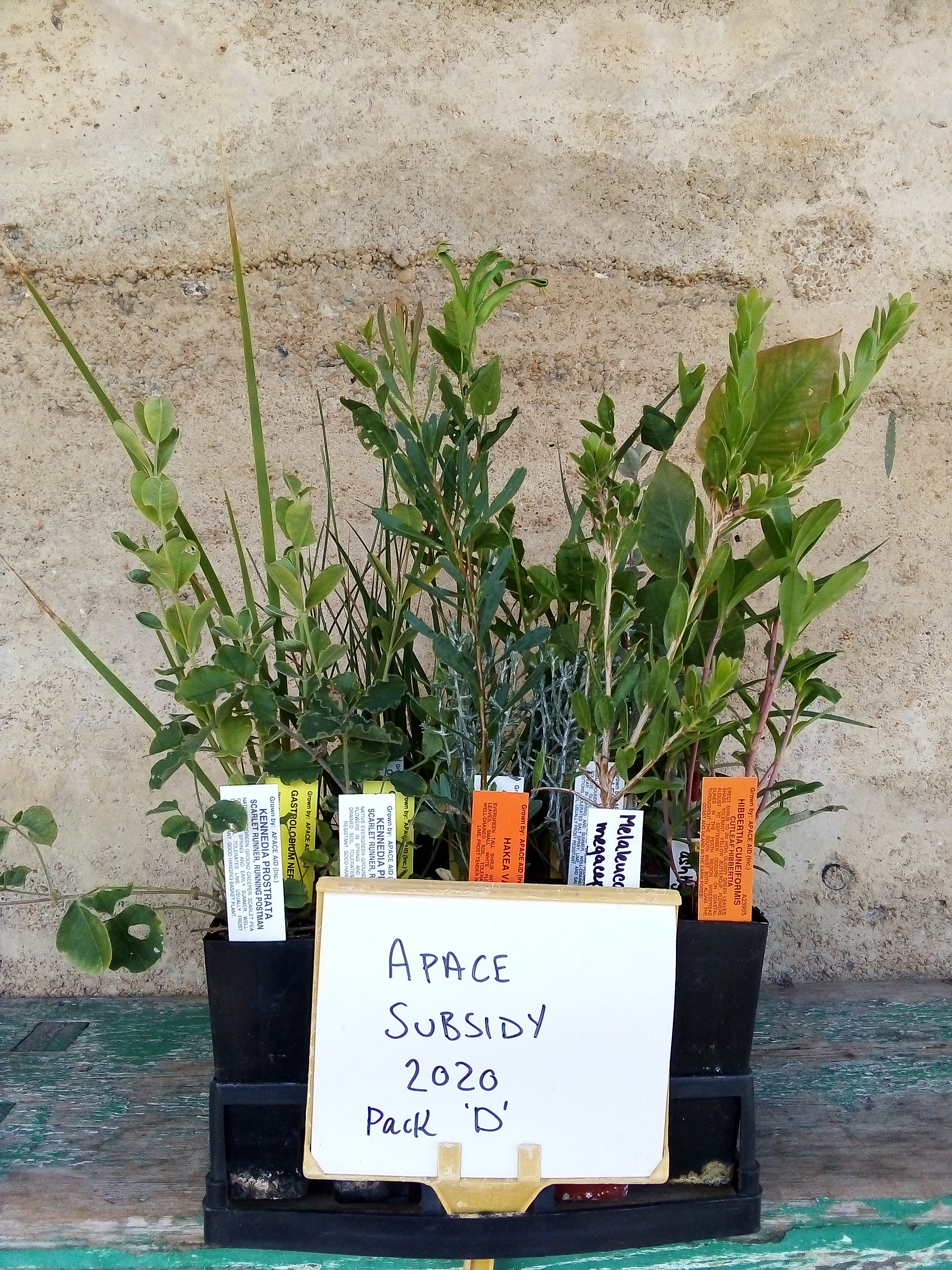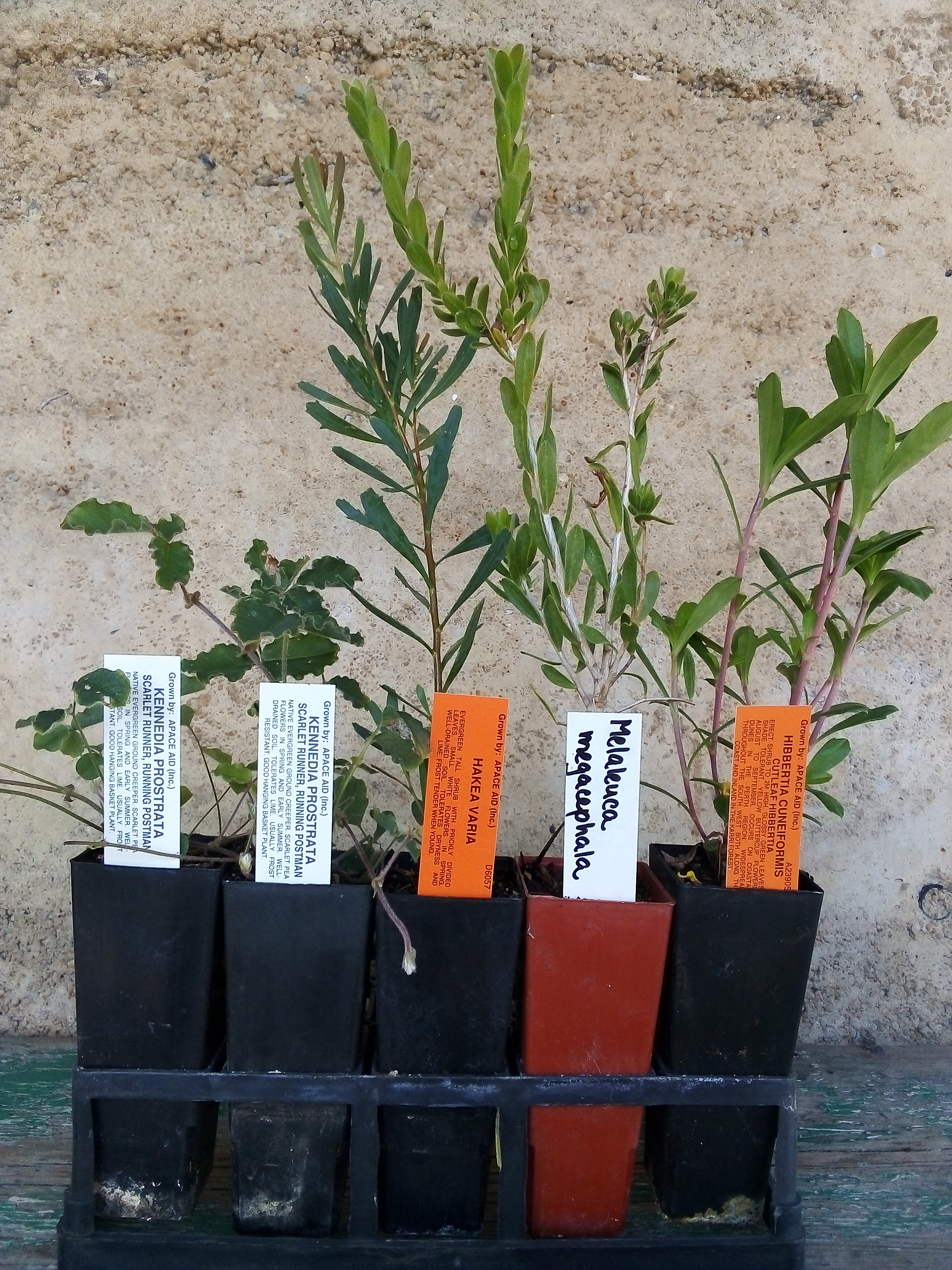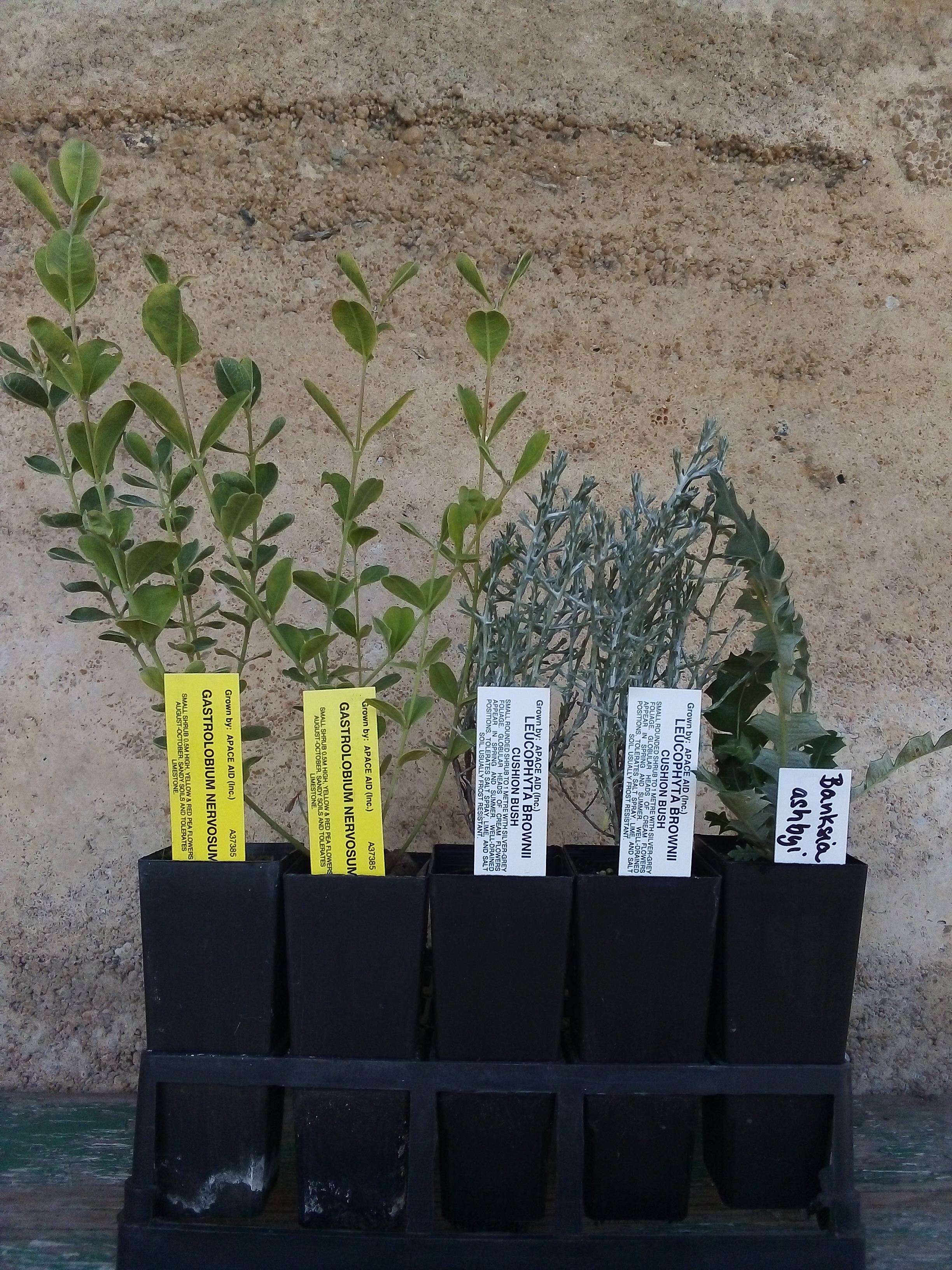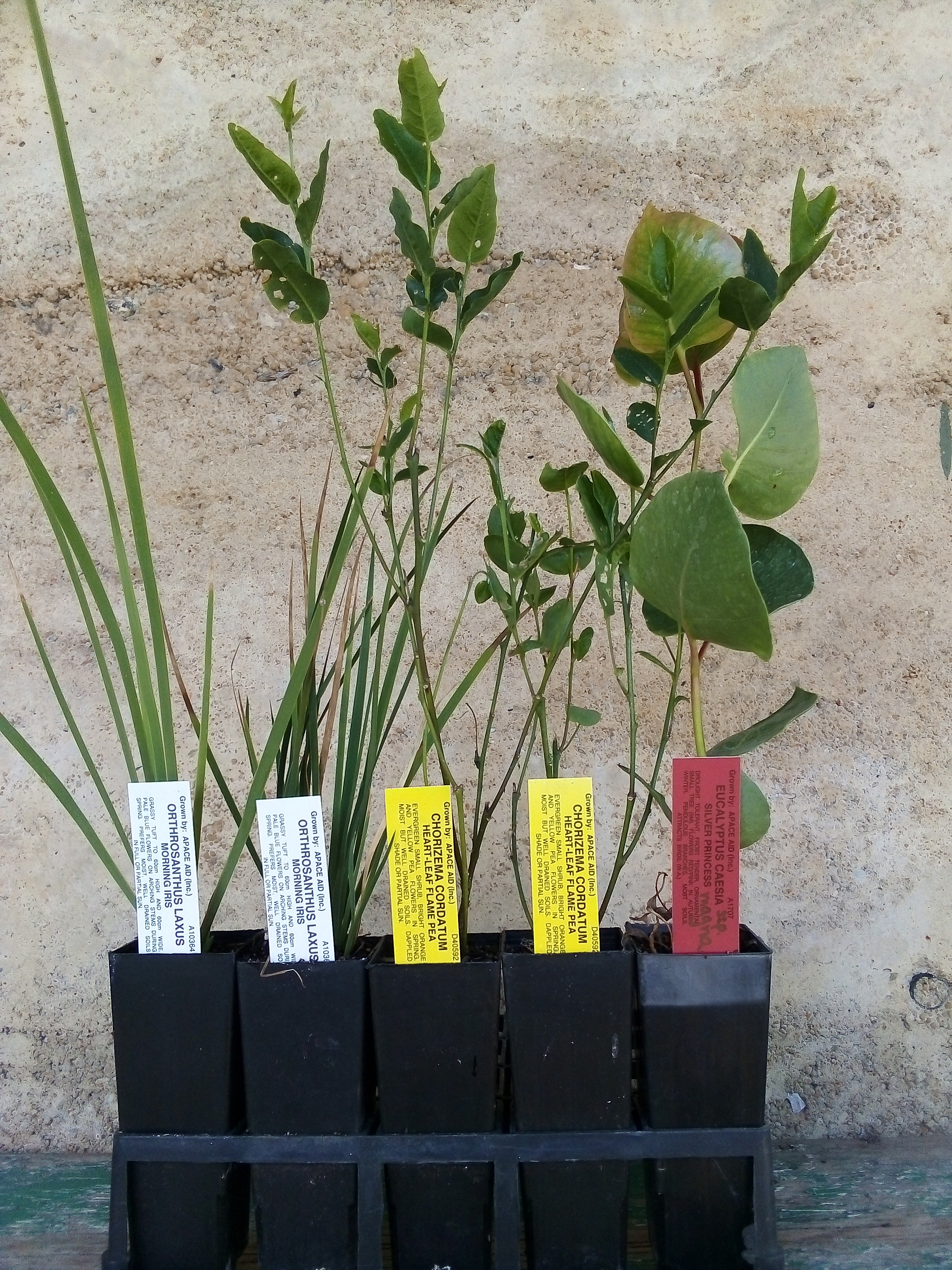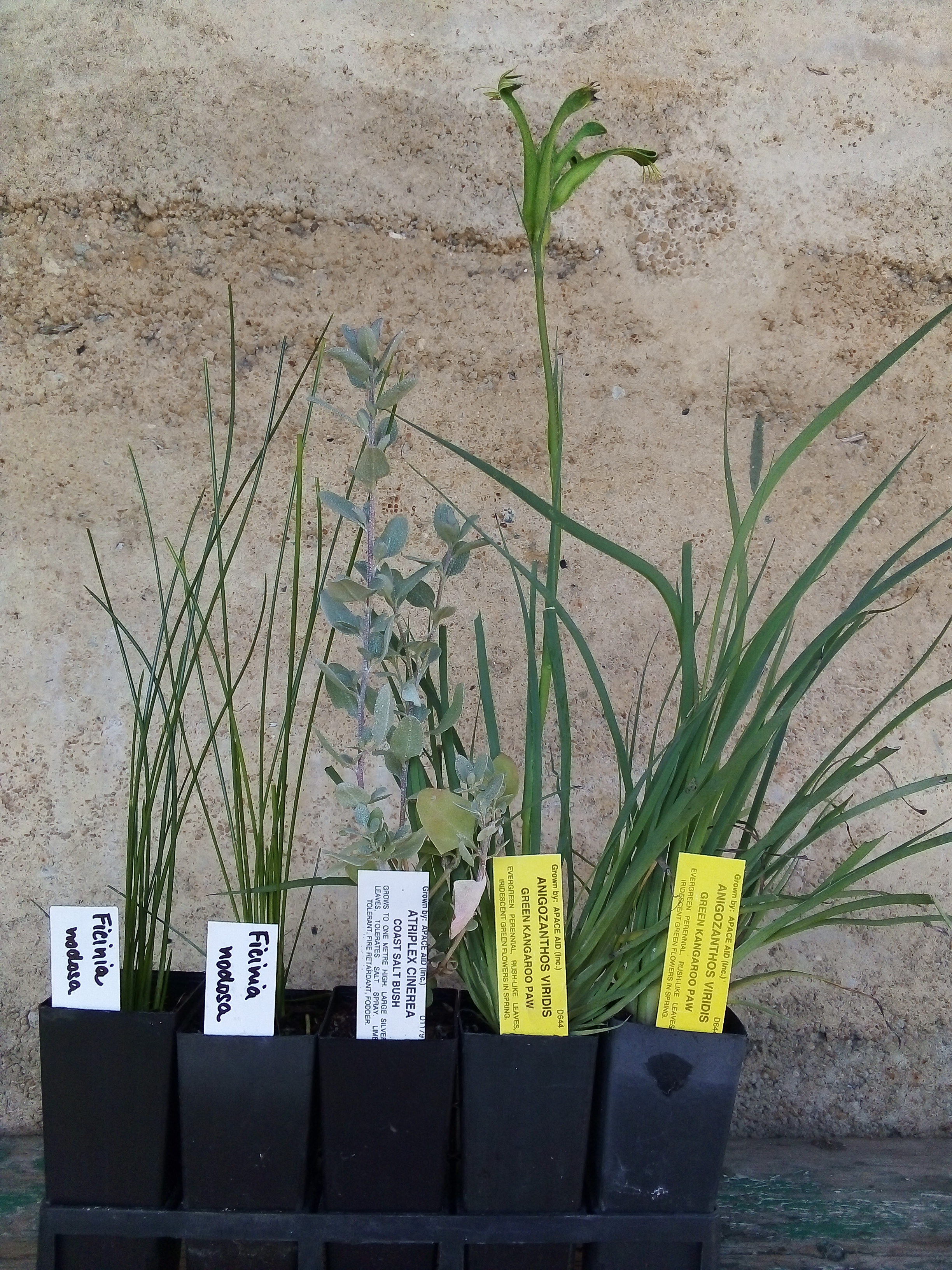 Pack C
Pattersonia occidentalis x 3
Anigozanthos manglesii x 1
Anigozanthos humilis x 2
Enchylaena tomentosa x 2
Eremophila glabra x decipiens x 1
Diplolaena angustifolia x 2
Westringia dampieri x 2
Gompholobium aristatum x 2
Alyogyne hakeifolia x 1
Atriplex isatidea x 1
Allocasurina lehmanniana x 1
Melaleuca cuticularis x 1
Banksia grandis x 1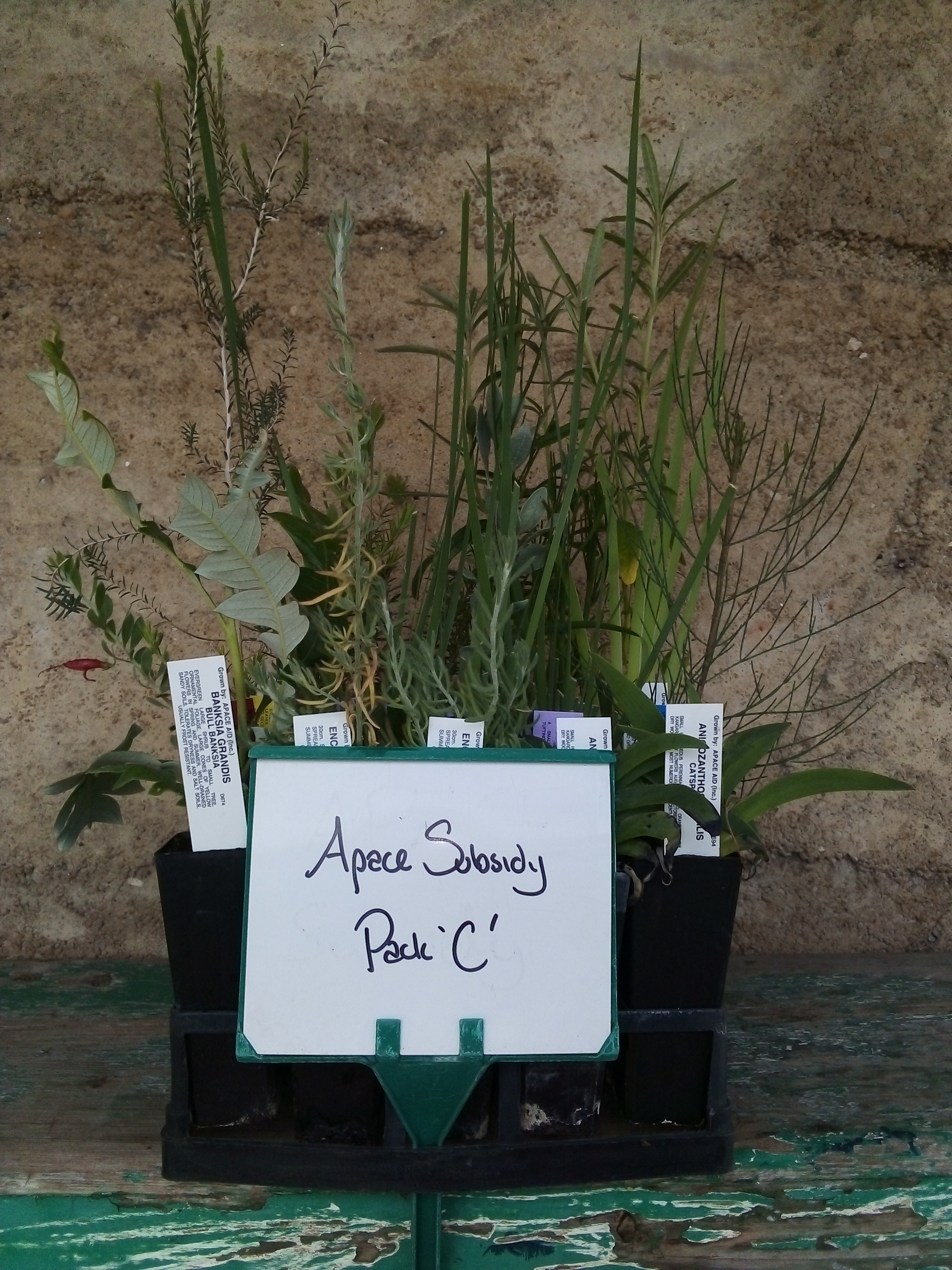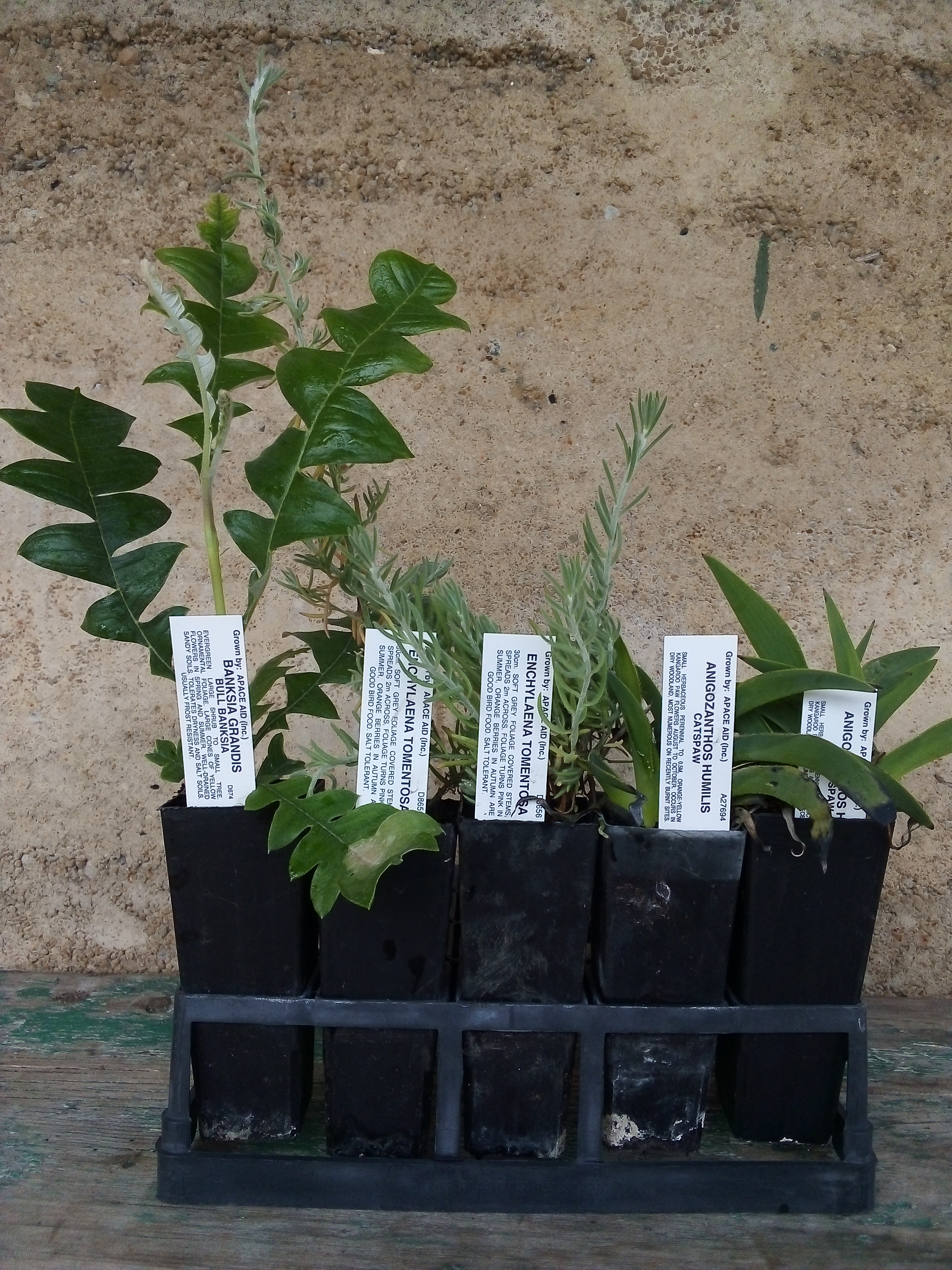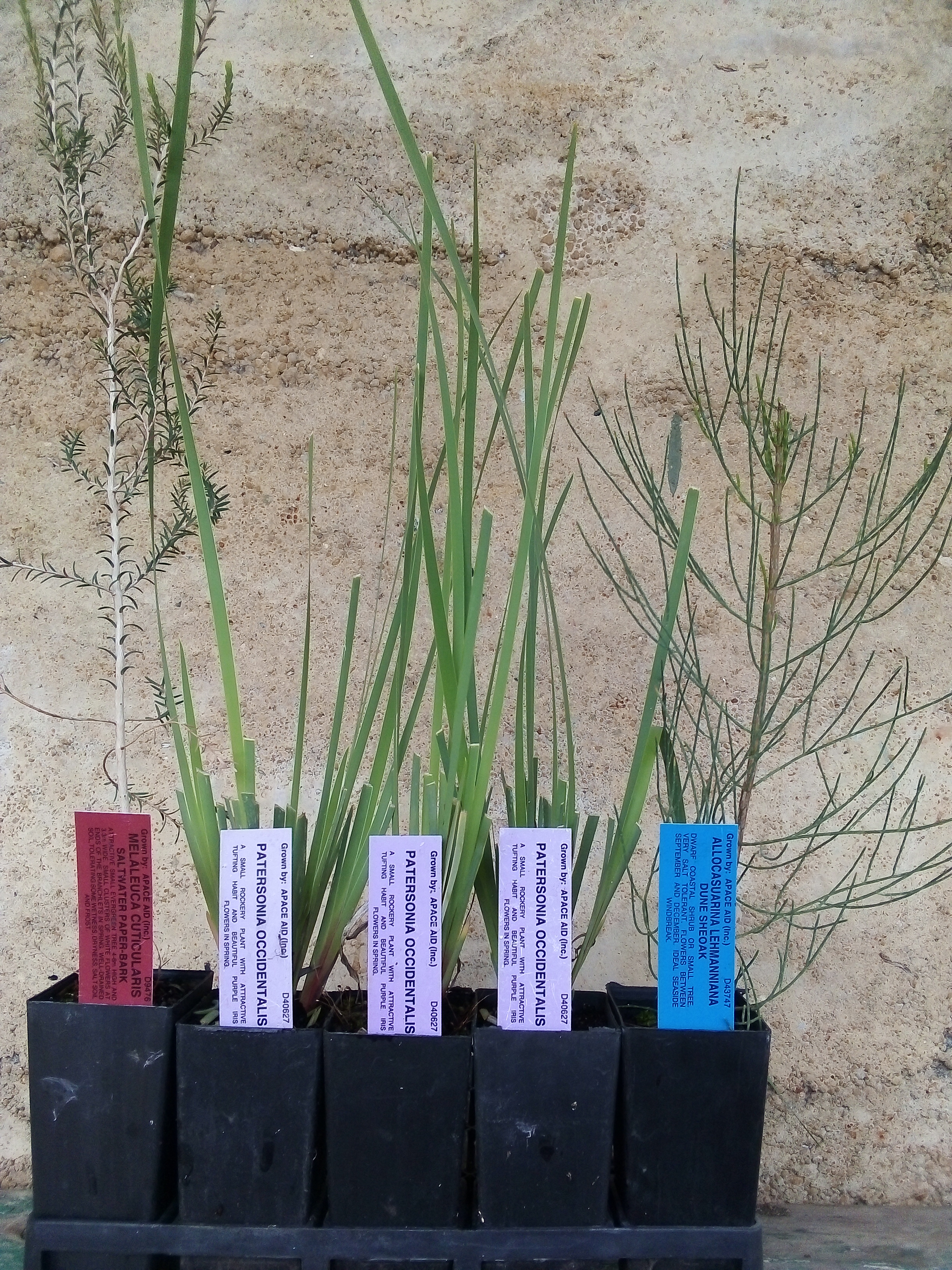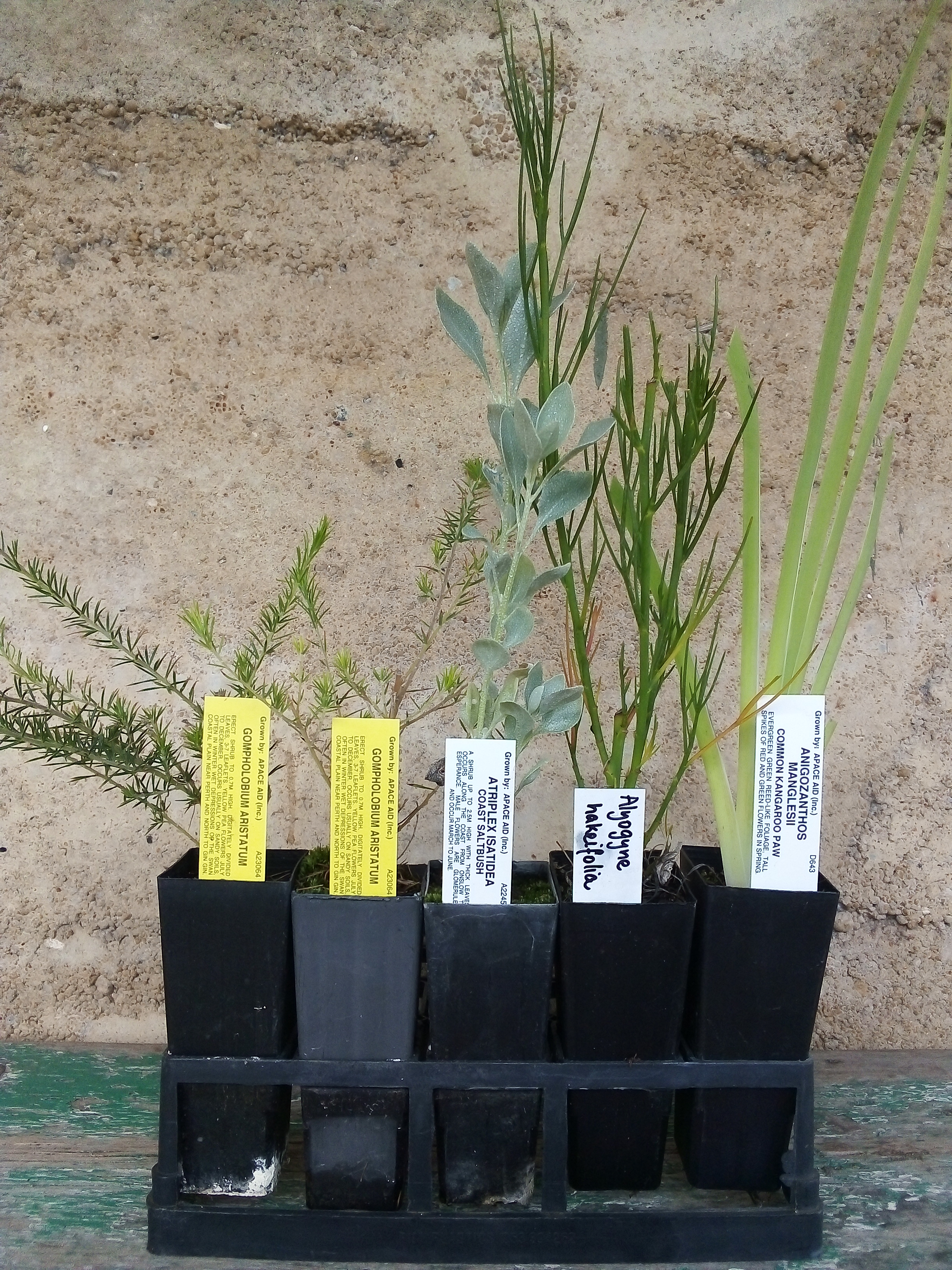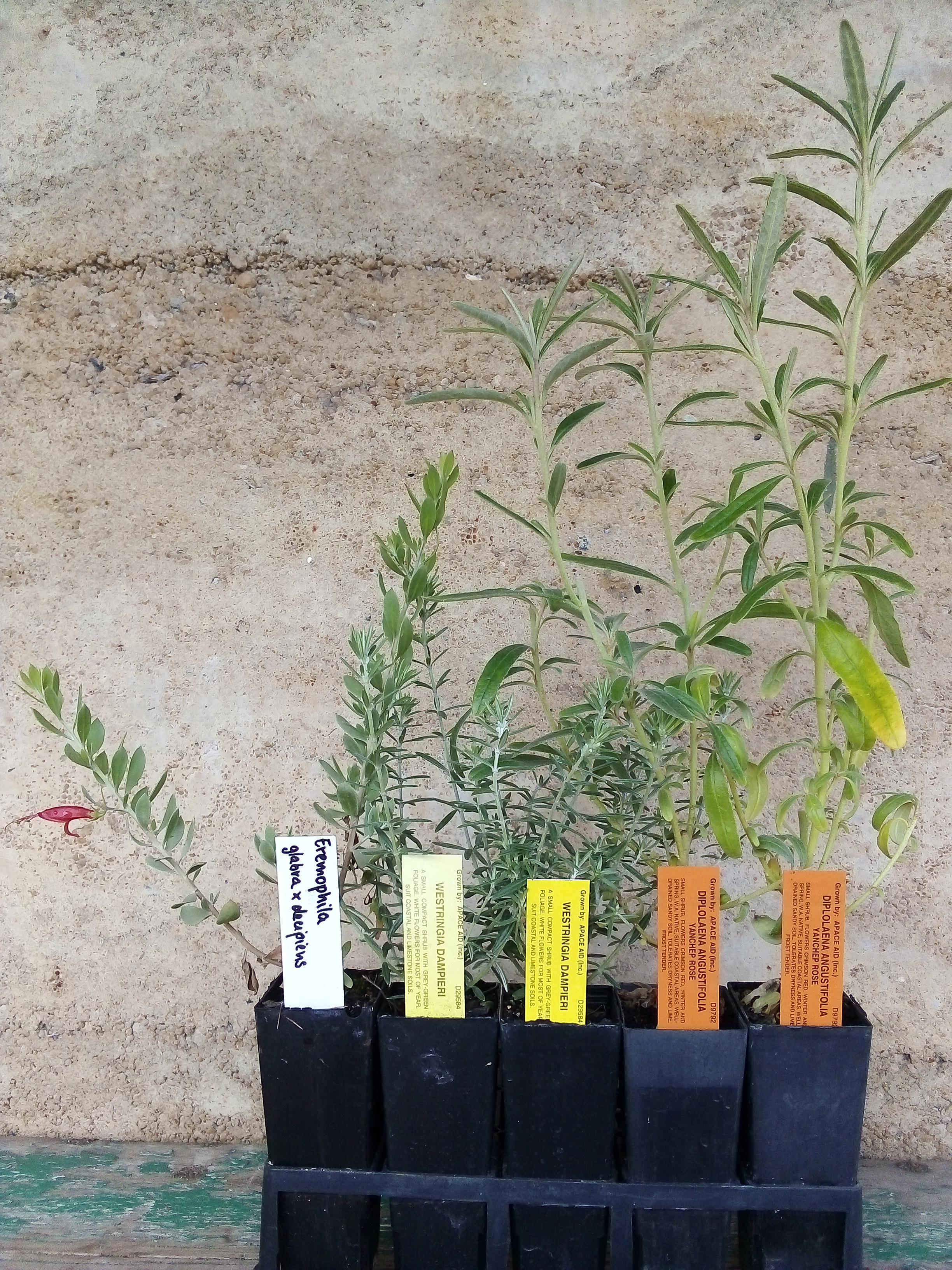 Pack B
Anigozanthos manglesii x 3
Poa poiformis x 3
Eremophila 'Kalbarri Carpet' x 2
Thryptomene repens x 1
Bossiea eriocarpa x 2
Rhagodia baccata x 2
Guichenotia ledifolia x 2
Allocasurina humilis x 1
Templetonia retusa x 1
Melaleuca huegelii x 1
Eucalyptus foecunda x 1
Hakea petiolaris x 1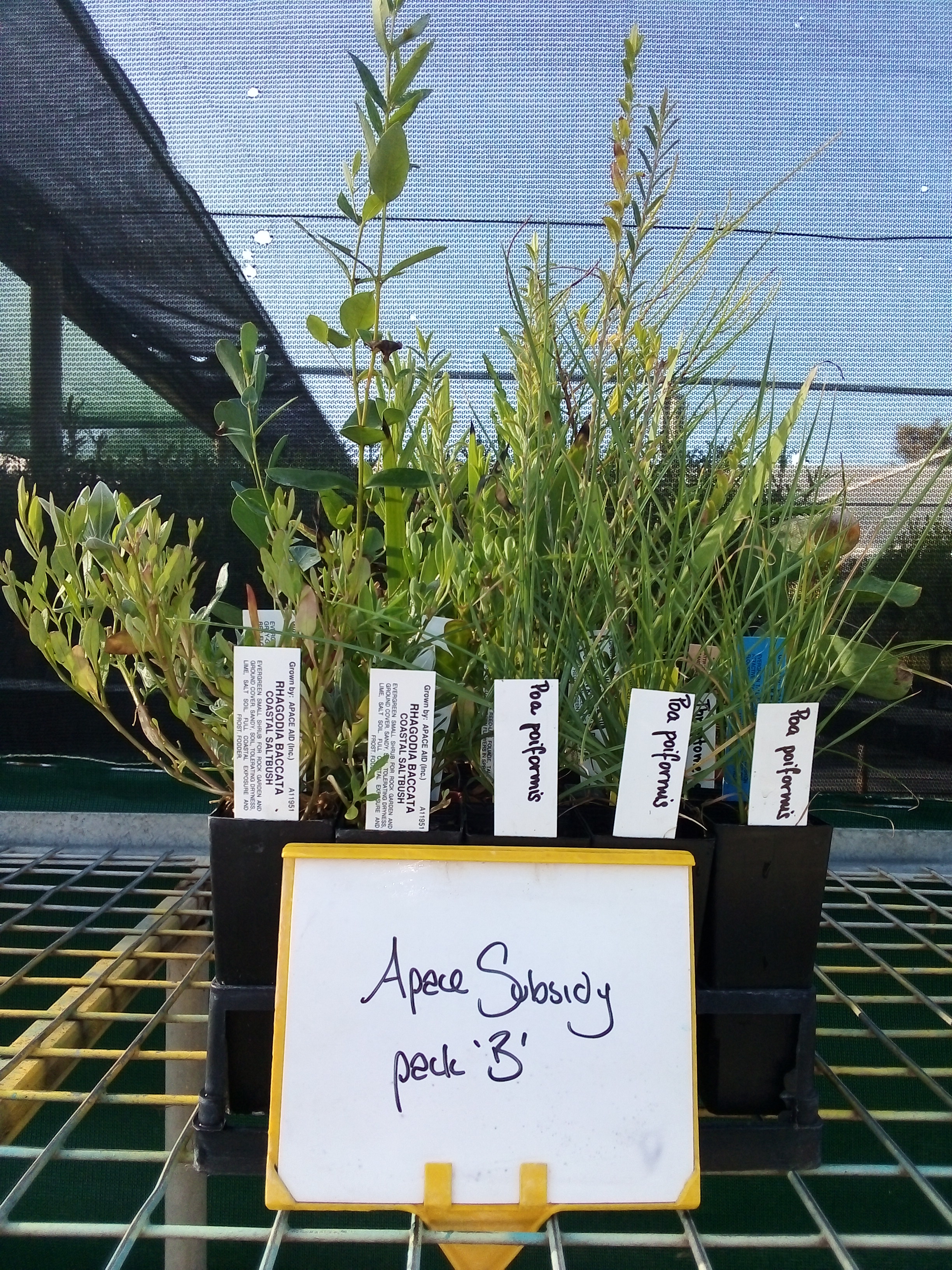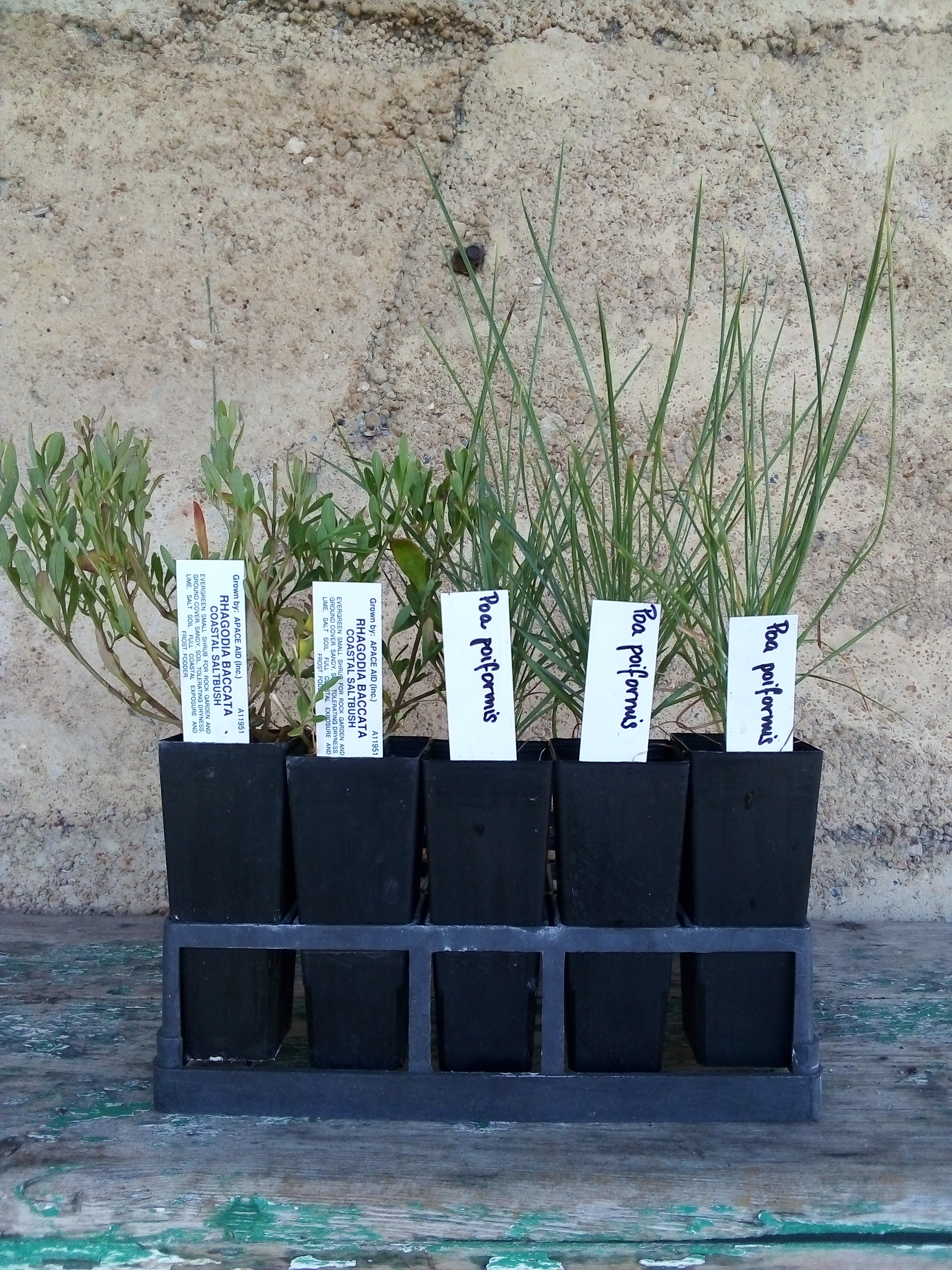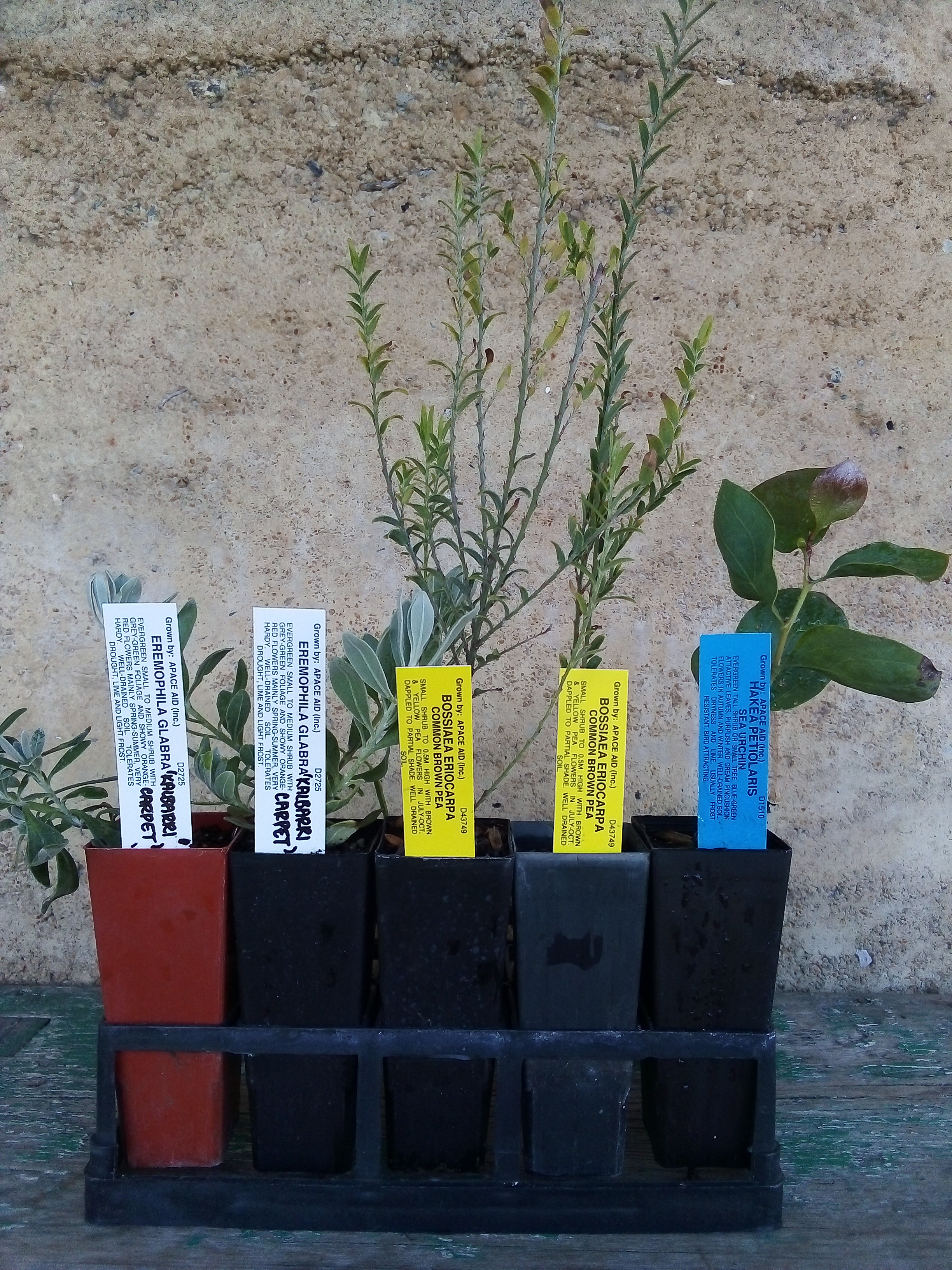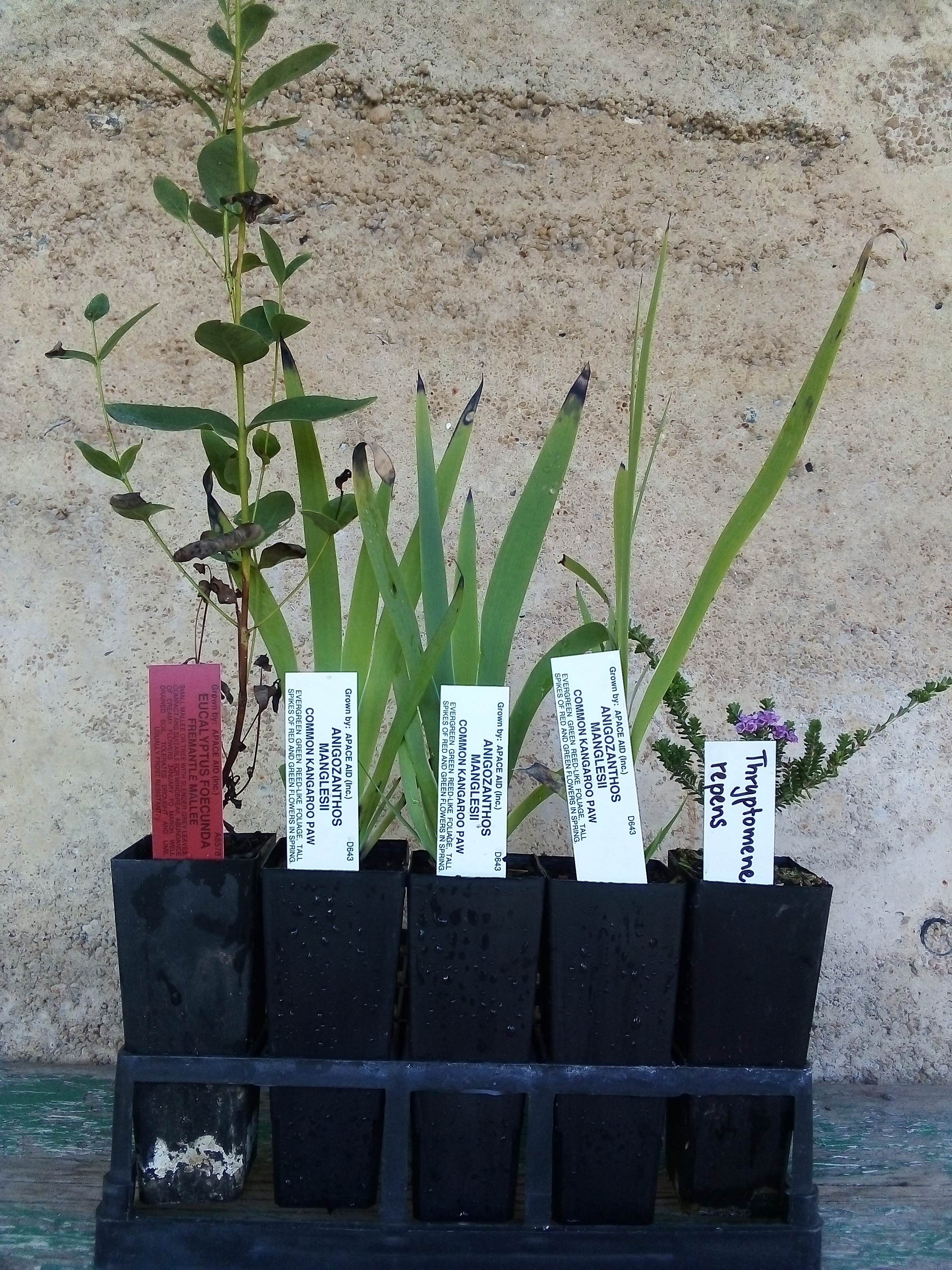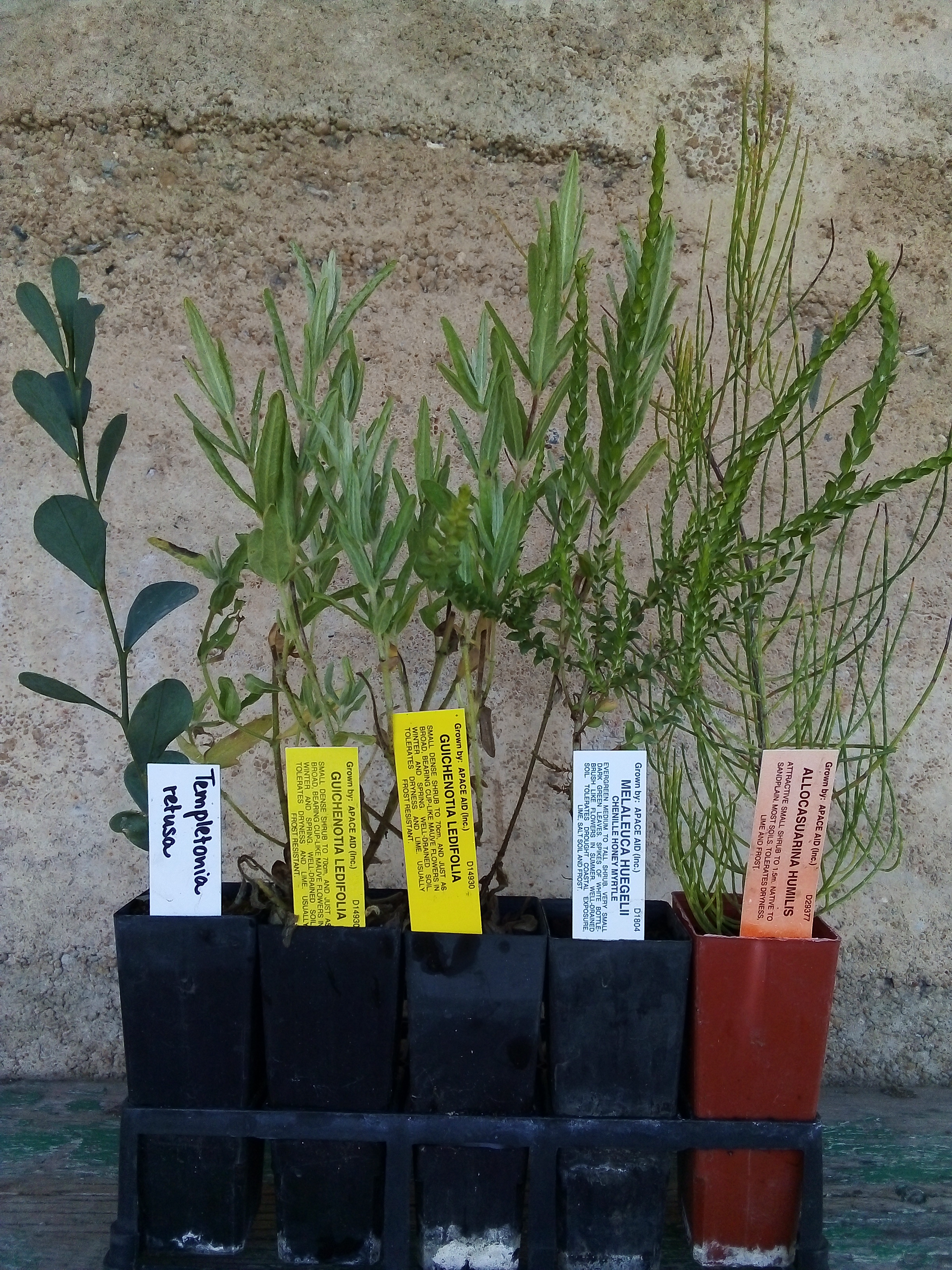 Pack A
Conostylus candicans x 3
Anigozanthos manglesii x 3
Kennedia prostrata x 2
Grevillia crithmifolia prostrate x 1
Calothamnus hirsutus x 2
Scaevola thesioides x 2
Acacia lasiocarpa x 2
Olearia axillaris x 1
Acacia cyclops x1
Calothamnus quadrifidus x 1
Eucalyptus petrensis x 1
Banksia menziesii x 1