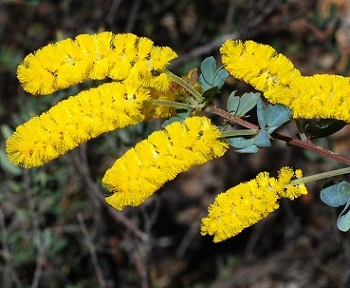 Size
1.0m
Flower Colour
yellow
Flowering Dates
July, August, September, October
Best Seasons
winter, spring
Description
Shrub 0.3 - 1m high, shade tolerant, yellow flowers July to October.There are 5 subspecies or variants. Bird attracting, dieback resistant.
Catalogues
Darling laterite, Darling Plateau: Laterite Region, Darling Plateau: Valleys Region, Darling valleys
Suburbs
Ashendon, Bailup, Baskerville, Bedfordale, Beechina, Bickley, Brigadoon, Canning Mills, Carmel, Chidlow, Darlington, Gidgegannup, Glen Forrest, Gooseberry Hill, Gorrie, Hacketts Gully, Herne Hill, Hovea, Jane Brook, Jarrahdale, Kalamunda, Karragullen, Karrakup, Kelmscott, Keysbrook, Lesmurdie, Mahogany Creek, Martin, Millenden, Mount Helena, Mundaring, North Dandalup, Orange Grove, Parkerville, Paulls Valley, Pickering Brook, Piesse Brook, Red Hill, Reservoir, Roleystone, Sawyers Valley, Serpentine, Stoneville, The Lakes, Walliston, Whitby, Wooroloo

Wish List
Quantity of
Acacia drummondii
:
Your Wish List has been updated!
Invalid amount. Please choose a number.